Genre/Influences: New-wave, post-punk.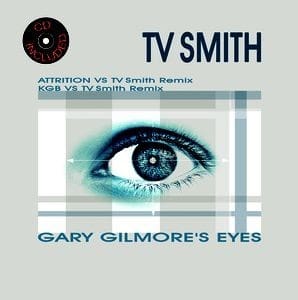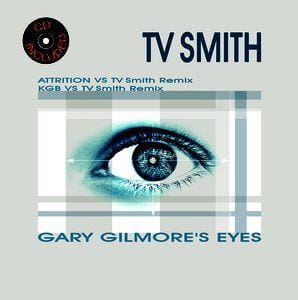 Content: Timothy Smith is a name, which will instantly appeal to lovers of punk music. Smith was member and singer of The Adverts. The band was mainly active during the late 70s while Smith went on during the 80s under the moniker TV Smith.
The song "Gary Gilmore's Eyes" was originally released by The Adverts in 1977 and became one of their biggest hits. The song deals about Gary Gilmore, a criminal and murderer who was executed early 1977 in Utah by firing squad. There's more info about Gilmore on the detailed info sheet inside this vinyl.
TV Smith recovered this song from dust by releasing some new versions. The A-side takes off with the great "Half Circle"-mix by KGB (aka Kenny Germain B from Simi Nah). Martin Bowes (Attrition) contributed to this song as well by taking care of the electronics while there also is a guest guitarist (Ian Arkley) and female backings by TyLean (Attrition) and Christine Reid (formerly member of Attrition as well). So this EP is a more a kind of collaboration between this British punk legend and electronic pioneer Attrition.
But let's get back to this "Half Circle"-mix by KGB, which is a perfect match between pure electronics and a bass line reminding me of The Chemical Brothers and the punkish vocals by Smith. The guitars add some extra raw power.
The 2nd song is a mix, which has been meticulously accomplished by Attrition and that's for sure an element you'll rapidly notice because of the typical dark electronics and bass line. I here like the female backing vocals, which remain an essential element of Attrition as well.
The B-side don't captivate me a similar way. KGB accomplished another mix (cf. "Let's Do It"), which is more into rock music while the 'Unplugged – The Naked Song" sounds a bit like entering an Irish pub for its folk-like approach. It for sure adds some extra diversity to this 12". Notice by the way that next to the vinyl there's also a CD included featuring the same songs.
Conclusion: I like the idea of hearing an old and successful punk-song getting reworked into something more electronic and modern. It's fun and it could become an idea for future releases in a similar genre.
Best songs: "Gary Gilmore's Eyes – KGB – Half Circle Mix", "Gary Gilmore's Eyes – Attrition vs TV Smith Mix".
Rate: (Elise Din:7)Elise Din.
Band: www.tvsmith.com / www.facebook.com/TVSmith77
Label: www.facebook.com/tracksandtraces