Genre/Influences: Medieval, folk, world-music.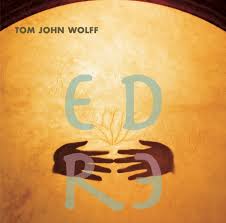 Content: Tom John Wolff is an artist living in Tirol (Austria) and who was previously involved into a medieval-inspired formation (cf. Asfur).
"Erde" clearly evokes medieval music, but there also is a real strong world-music influence. The common element between both genres is the artist's love and passion for authentic- and acoustic instruments. The compositions have been written with an impressive arsenal of instruments, but I think to might say that the harp is one of the fetish instruments and the guitar is quite important as well.
"Erde" smells like pure reverie and has a strong visual appeal that will invite you to join the music played by troubadours. We're getting back to the era of castles and knights while other songs clearly are inspired by other cultures. You feel like you are travelling towards distant cultures evoking the mysticism of the East. Last, but not least there also is a very strong taste for pure folk music.
Speaking for myself I have a little preference for the beauty and mystery of the Eastern inspired songs and I here have to tip "Naz Bari" and "Hicâz Ilâhî" as the main attention grabbers. Both songs are little jewels of musical delicacy and feel like the point where music turns over into poetry. "Kürdî" is one more song in the genre.
Other listeners will probably be more seduced by the troubadour expression featured in, "Es Geht Ein Dunkle Wolk Herein" and "Wurzellos." The different influences meet each other and move from style to another.
Conclusion: This album really radiates the passion and the love of music and authentic instruments generally speaking. This is an artist to keep in mind and let's hope that we'll get more reverie from Tom John Wolff.
Best songs: "Naz Bari", "Hicâz Ilâhî", "Kürdî", "Es Geht Ein Dunkle wolk Herein".
Rate: (Elise Din:8)Elise Din.
Band: www.facebook.com/profile.php?id=100009380503689
Label: www.dansemacabre-group.de / http://de-de.facebook.com/pages/Danse-Macabre-Records/161032440594773