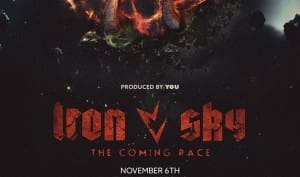 The Iron Sky team are back from Cannes Film Festival with good news: the production of Iron Sky 2 ("Iron Sky The Coming Race") has been confirmed. That means that they will now start signing agreements for shooting locations and shift the pre-production into a higher gear.
"Iron Sky The Coming Race" is the sequel to the 2012 cult hit "Iron Sky" (get it here
) and takes place somewhat twenty years after the first film. You'll also be introduced to some new characters (including Vladimir Putin and Jesus) but the old friends (and enemies) will still be around. This time the story will take us from the Iron Sky into the Hollow Earth filled with dinosaurs and aliens.
The makers speak about "Iron Sky meeting Indiana Jones on a safari in Jurassic Park". To make sure that the special effects are stunning, the Oscar winning VFX company Pixomondo will be creating the "Iron Sky The Coming Race" world.
The plot is as follows: Twenty years after the events of Iron Sky, the former Nazi Moonbase has become the last refuge of mankind. Earth was devastated by a nuclear war, but buried deep under the wasteland lies a power that could save the last of humanity – or destroy it once and for all. The truth behind the creation of mankind will be revealed when an old enemy leads our heroes on an adventure into the Hollow Earth. To save humanity they must fight the Vril, an ancient shapeshifting reptilian race and their army of dinosaurs.
But first here is Vladimir Putin dancing.
And here's an idea of what to expect of the actual film.