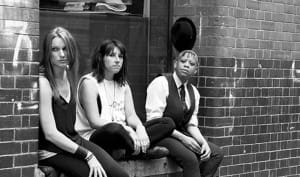 Formed in 2008, Blindness features Beth Rettig (vocals, programming, noise), Emma Quick (bass, noise), and Debbie Smith (guitar, feedback,noise), the latter being guitarist for 90's bands Curve and Echobelly and, later, Snowpony. Their refreshing electro infested new wave sound should please fans of The Jesus and Mary Chain as well as My Bloody Valentine.
Their debut album 'Wrapped In Plastic" will be out on Saint Marie Records on July 24 on vinyl (available right here
), CD and as digital download. You can watch the video for "Confessions" below. It was filmed by Lasco Atkins and Milo Richard Downs and edited by Alex Scotti and Blindness.