Genre/Influences: IDM, minimal electro-industrial.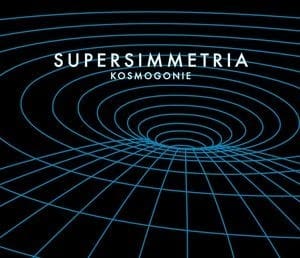 Content: Operating from Berlin, Armando Alibrandi has joined Hands label to unleash his new opus. You might have heard of this artist who already released previous releases at Le Petit Machiniste and Zone 30 Records.
No doubt about it, "Kosmogonie" will seriously increase the popularity and name of Supersimmetria. This work features 12 songs plus a remix by Geistform. You directly perceive the intelligent electronic writing of Alibrandi who's mixing industrial components together with haunting atmospheres and incoming rhythms. The sound is complex although accessible and sexy.
"Kosmogonie" clearly appeals for lovers of great sound treatments. You rapidly notice this work has been made by great sound treatments. The electronic loops, industrial passages and haunting atmospheres come together in a pure IDM result.
Some tracks have been carried by solid industrial-like rhythms while on the other side you also will notice the subtleties of the loops and bleeps. "Solar Flare" and "Plasma" both are outstanding exponents of this genius artist. This album clearly reveals an impressive arsenal of sounds and influences, but it first of all will appeal to fans of industrial music and IDM. Most of the cuts are mainly characterized by cold and somewhat haunting atmospheres while you sometimes also get a kind of choir hanging over the work.
Among all the influences you also will perceive technoid elements emerging from different cuts. I especially like the techno-industrial and dark sounding "Aurorae." "Eridanus Supervoid" is another noticeable track in the genre, but the absolute smasher is called "Aleph." It's once more a freaky track revealing icy atmospheres and some technoid & industrial arrangements. It's a freaky cut written by sumptuous sound treatments. "Made Of Stardust" coming next pushes the limits of industrial music to the end. This composition is characterized by an evasive industrial style, which you'll have to admit is rather unusual while trance structures progressively join in.
Last, but not least I think Geistform is a real great artist to make a remix of Supersimmetria. This is another minimal and intelligent project dealing with industrial and IDM. Geistform transformed "No Signal" (which in my opinion is the only average track of the tracklist) into an exciting piece of minimalism.
Conclusion: It's not a coincidence that Hands is one of the long-time established and leading labels of the industrial scene. Hands simply has a nose for talented and innovating artists and this album is for sure an absolute masterpiece.
Best songs: "Aleph", "Plasma", "Casimir Effect", "Solar Flare", "Gestalt", "Made Of Stardust", "No Signal – Geistform Remix".
Rate: (DP:9)DP.
Band: www.facebook.com/Supersimmetria
Label: www.handsproductions.com / www.facebook.com/hands.official