Genre/Influences: Industrial hard-core, experimental, powernoise.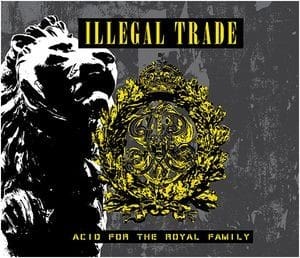 Content: Natasha A Twentyone and Alexey Protasov are quite familiar artists active at the wider fields of industrial music. We all know them for their work under the moniker of Ambassador 21 while they also released a couple of production as Suicide Inside. Illegal Trade is the newest sonic exposure of this totally weird duo and to be honest with you there are some similarities with their main project.
Illegal Trade sounds like a mix of pure hard-core electronics and industrial music. It's not exactly comparable to any other band except the anarchistic and uncontrolled work of Ambassador 21. The main difference is that this project sounds more fun-like. The title of the album clearly reveals their particular sense of humor, but some titles like "Acid For The Royal Family" and "Lucky Junkies" clearly confirm their taste for provocation and just a way to have fun.
The uncontrolled and often hard-core driven rhythm patterns are quite comparable to Ambassador 21, but still the use of sampled parts taken from famous songs. "Space Hunter" is the best reference at this album featuring Nirvana's famous "Smells Like Teen Spirit." Grunge fans will call it blasphemy, but in the end this duo are punks! That's probably a reason why I regret they didn't use samplings from The Sex Pistols instead of Nirvana. That would be too much fun!
Don't expect melody lines and structured compositions. Illegal Trade sounds like a dangerous sonic missile that is lost somewhere in space. The target is unknown, but it will rapidly appear that their main aim is to damage your ears. Just pay attention for "Zoom" to understand the impact of those sonic terrorists. They're mixing multiple influences and genres and it's not only industrial and hard-core like, but also noise, d'n'b and especially 'sonic terror'. If you already like Ambassador 21 you for sure going to like Illegal Trade.
Conclusion: Illegal Trade is the point where industrial music turns over into punk. This is one weirder and totally insane project by Natasha A Twentyone and Alexey Protasov, but in the end they remain the one and only artists to compose this kind of sound.
Best songs: "Olga Is Dead", "Go Home", "Zoom".
Rate: (DP:7)DP.
Band: www.facebook.com/illegaltrade
Label: www.handsproductions.com / www.facebook.com/hands.official