One of the best electro export products from Holland, Schwarzblut, have just released a new video which goes hand in hand with today's release of their 10-track single "Judas" on Bandcamp, Spotify and in the next 24 hours also on iTunes.
It's the 2nd EP taken from their 3rd full-length album "Gebeyn Aller Verdammten". For those who already have that album, it was written in the stars that "Judas" would get a proper EP release as it mixes all the best ingredients which Schwarzblut has on offer as you can hear below: bombastic orchestral arrangements, a pumping bass sound and harsh male and subtle female vocals.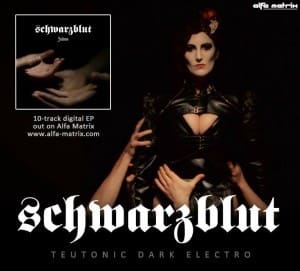 The specially low priced 10-track single features a selection of interpretations of the band's music by acts from all around the globe: Hell:Sector, Cardinal Noire and Pre:Emptive Strike 0.1. Next to that you can also expect remixes by Binary Division and Noise Junk who both won a Schwarzblut remix contest.
You can view the brand new video for the title track below.