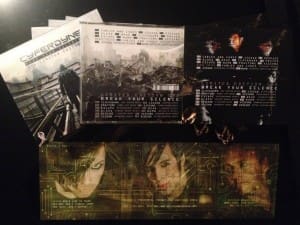 Cyferdyne are back, this time with a massive 2CD limited edition of their current album "Keep Your Silence" which was the British trio's second album. "Keep Your Silence" spawned the singles "Jigsaw" and "Numb" – the remixes from which are now compiled alongside another 9 all-new and previously unreleased remixes from Panic Lift, Terrolokaust, Ginger Snap5, Cygnosic, Seraphim System, C-lekktor, Die Sektor, Retrogramme and Petrol Bastard.
As per DWA's other recent 2CD reissues, also this release comes packaged in a jewelcase with a 12-panel foldout poster/lyric insert, carton overcase and traycard hand-numbered on the inside. Strictly limited to 100 copies worldwide you can get your copy right here.
If you already have the album and just want the new stuff, then check out the standalone digital release of CD2 "Break Your Silence", which takes the 12 remixes from the CD and adds the 3 from the original digipak release to make a 15-track release which boasts 10 tracks never previously available to download. Download it now from DWA's Bandcamp page.