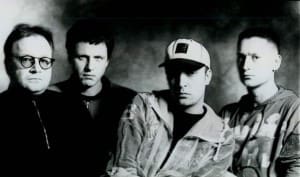 As announced yesterday Front 242 released a free 2-track download single – "Lovely Day (Remastered)"/"Take One (RadicalG Mix)" – via Bandcamp. The rush to download this single has resulted in the track reaching the number 1 spot on Bandcamp in just a few hours.
Only a few industrial releases have succeeded in doing this in the past, including the Alfa Matrix label compilation "Matrix Downloaded 4" and Side-Line's free compilation "Face The Beat: Session 2" which both hit the number 1 spot on Bandcamp in just a few hours after being made available. This was the result of thousands of downloads in a very short period of time.
Alfa Matrix in the meantime informs us that the first remixes for "Take One" have now been received. If you are also interested to remix this classic Front 242 track, then download the single, it includes a PDF with all info needed.
3 remixes will be selected by the band to be inserted in a second free download single which will be released on August 30th. Deadline for the remix submission (in non-mastered WAV 16bit format) is August 15th 2015, you can send your submissions to webmaster@alfa-matrix-store.com using dropbox or wetransfer. Make sure to title your remix by adding your band/artist/DJ name to the WAV file title that you will share.
You can download the single below.