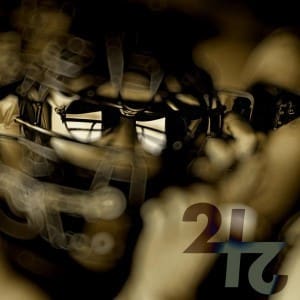 It's a lovely day today. The Belgian cult electronic act Front 242 has announced the imminent release of a free 2-track download single – "Lovely Day (Remastered)"/"Take One (RadicalG Mix)" – via Bandcamp.
The remastered "Lovely Day" track acts as a teaser for the upcoming remastered version of Front 242's iconic 1984 album "No Comment" which will showcase the album's innovative sound in its best audio quality possible today . Says the band: "You will be able to hear the album on vinyl and cd with the improvements or differences permitted by today's audio technology."
As an extra you'll also get the previously unreleased RadicalG remix of "Take One", but that's not all because Front 242 includes a remix competition for the classic track "Take One". You can find the download link for the remix kit in the PDF that is included in your download as bonus.
3 remixes will be selected by the band to be inserted in a second free download single which will be released on August 30th. Deadline for the remix submission (in non-mastered WAV 16bit format) is August 15th 2015, you can send your submissions to webmaster@alfa-matrix-store.com using dropbox or wetransfer. Make sure to title your remix by adding your band/artist/DJ name to the WAV file title that you will share.
You can download the single below.