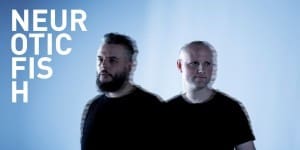 During the late 90s and early millennium years Neuroticfish became a real successful band, which was associated with the so-called 'future-pop' movement. The band released 3 amazing albums and multiple EP's till mastermind Sascha Mario Klein decided to stop the band. Ten years have passed since the "Gelb"-album, but Neuroticfish is back on track having released a real brilliant piece of music. We asked Sascha Klein about the past and the resurrection of Neuroticfish.
SL: The "Bomb"-EP (2004) became a prophetic title as it finally seemed to announce the end of Neuroticfish, but 10 years after your last album (cf. "Gelb") the band is back with a new (and already prophetic?) work "A Sign Of Life"! Can you briefly summarize the main facts from "Gelb" till the moment you decided to reactivate the band and the concept behind "A Sign Of Life" plus the creation of your own label (Non Ordinary Records)?
S.Klein: I don't know if "Bomb" was prophetic at that time, but when we take a look at todays world: Everybody has smart phones and is online, we have mass surveillance and every single person is analyzed and profiled. Hmmm… "Told you so…"? I closed NF merely because I felt exhausted and had the impression that I lost control about my artistic process. NF got more and more recognition and with that came the people who tried to influence me to their favor. I don't know if this was the real issue but it felt that way… or I was just paranoid… It took me some years to realize that it was not the music or the project… It was me and my way of dealing with it. And to regain a maximum of control and artistic freedom we started our own record label "NOR".
SL: Have you been totally disconnected from music –and especially this scene, since you decided to stop Neuroticfish and what are the most noticeable changes/evolutions today (compared with your early years)?
S. Klein: I needed to draw a line and so I completely disconnected myself from everything. But as a creative person, you always feel the need to express yourself. So I tried different fields of art: Photography, Writing, Painting… But it never felt the same… So I called up Henning in June '12 and asked him about rebooting NF again. He said "I thought you'd never ask. Come over…". Two and a half years later – "A Sign Of Life" is the result. Compared to our earlier works it feels more 'to the point'. We don't beat around the bush anymore.
SL: You always seem getting some fun (?) evoking the 'death of electronic body music' (now again in the song "Is It Dead"), but what does this music genre really evoke to you and what can you say about the potential sources of inspiration running through the new album?
S. Klein: It was more like mocking the label 'EBM' because I felt it was misused to promote music that wasn't EBM anymore. I then was devastated when I got back to the (German) clubs after so many years. No invention at all. So many lazy, mushy and watered down disco fox tracks, that have no soul were labeled EBM. So we ask "Is it dead"? And where are ones who invented this genre? But I feel there's hope… When I listen to "Youth Code"… I know there's hope J
SL: I experienced " A Sign Of Life" as your hardest, but especially the most accomplished work ever. How would you compare this work with your earlier productions and what does it says about your evolution as a musician?
S. Klein: Like every NF release "A Sign Of Life" is a child of it's time. It's again exactly what we wanted to do at this point in time without neglecting where we came from. We wanted to preserve the naive harshness of "No Instruments" and combine it with more recent elements of other genres like dubstep, psy-trance and complextro but keep it more song orientated like we did with "Gelb". This was a stretch, we know, but we feel it was worth a try:-) We think that for an artist it is very important to think outside the box… or even more… outside your own genre…