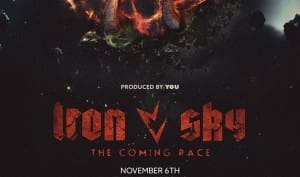 "Iron Sky The Coming Race", the sequel to "Iron Sky", will most probably be filmed in Antwerp, Belgium, again directed by Timo Vuorensola. The Iron Sky producers have just arrived in Belgium to check the production facilities there, and more especially in Antwerp. The shoot is scheduled from 19th of October to 11th of December.
"Iron Sky The Coming Race" is the sequel to the 2012 cult hit film "Iron Sky" and takes place somewhat twenty years after the first film. You'll also be introduced to some new characters (including Vladimir Putin and Jesus) but the old friends (and enemies) will still be around. This time the story will take you from the Iron Sky into the Hollow Earth filled with dinosaurs and aliens.
To keep you busy, the makers of the film also posted a brand new 'making of' the first film.