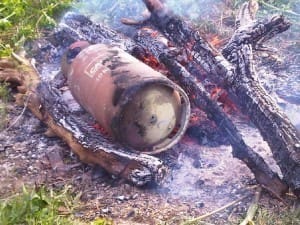 7 Pukkelpop festivalgoers (all male teenagers) have been wounded when large flames burst out of a gas bottle that fell over. Apparently they wanted to switch the bottle with a new bottle (an action which actually should have been done by a team on the festival itself, something the teenagers 'forgot' to ask). The previous reports by the official television channel VRT as if the bottle would have exploded are false. The incident happened on camping A of the Belgian festival. 5 of the 7 have been rushed to the Jessa Hospital in Hasselt but are not in critical condition.
It's unsure what kind of gas bottle exploded since the festival strictly forbids the use of gas burners with pierceable cartridges. The festival only allows gas cylinders of up to 250g equipped with a safety valve.
Further research will have to show if the festival goers smuggled a non-safe gas bottle onto the festival's camping site, risking the lives of many other people present there.
(The picture above does not represent the actual scene)