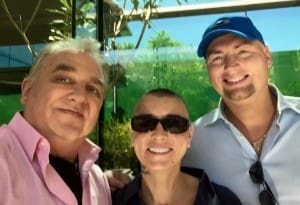 In a Facebook post Simon Napier-Bell, who together with his partner Bjorn de Water has been managing Sinead O'Connor since last November, reacted on O'Connor's accusations that she has been mishandled by them.
Says Napier-Bell: "(…) She also writes frequently on Facebook; sometimes fiery rants, other times about music she likes or people she respects. For some time now she's been telling her Facebook friends about problems with her health, her son's ill-health, and about her financial losses from having had to cancel a South American tour in order to stay behind and take care of him. Fate and circumstance came together to cause these things to happen and throughout them Bjorn and I gave Sinéad carefully considered advice and acted with honesty and integrity. But earlier this week Sinéad wrote a post that accused us of doing otherwise. It was untrue, defamatory, and damaging. Through our lawyer we applied to Facebook to have the post removed. If it is, then without prejudice to our right to take further legal action for defamation if we feel it necessary, our preferred choice would be to leave things at that. We've enjoyed working with Sinéad – she's a great artist, a caring mother, and for nine months was a good friend."
To be continued! The picture used above shows from left to right Simon Napier-Bell, Sinead O'Connor and Bjorn de Water, in happier times that is. Photo by Simon Napier-Bell.