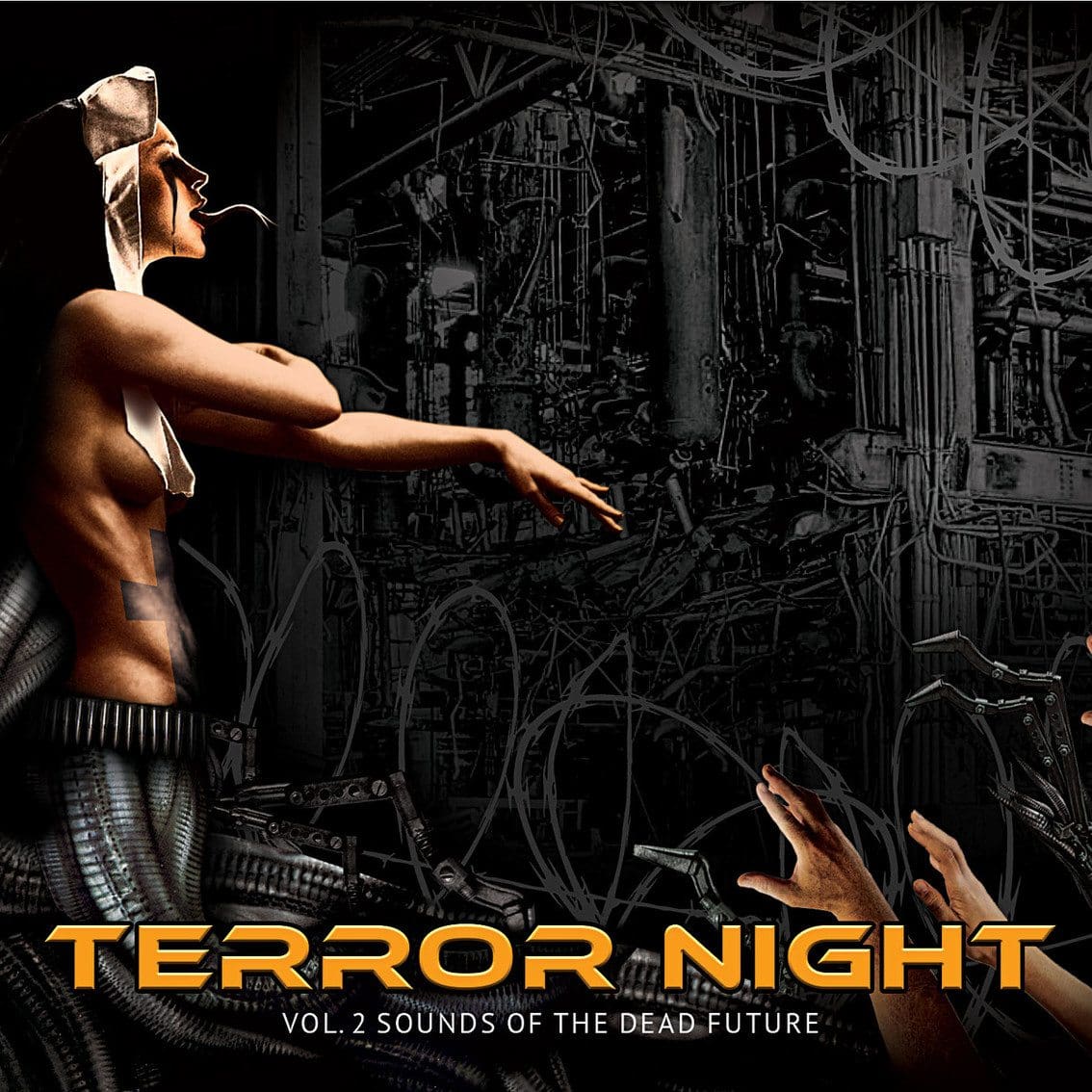 The Insane Records label and the Terror Night radio show have joined forces to release "Terror Night Vol.2 – Sounds Of Dead Future", a compilation album that consists of 100% exclusive tracks by dark electro bands from all over the world. The release date is scheduled for June 30, 2016!
The compilation is the follow-up to the first compilation "Terror Night Vol.1 – Industrial Madness". Compared to the first volume this volume has a more diversified tracklist catering to more styles related to dark electro. As a result you can expect aggressive Hellektro, but also more melodic songs.
A preview can be listened to below:
The compilation comes as a 6-panel 2 CD digipak limited to just 300 copies. The compilation album will only be available via the official Insane Records webstore as well as on the label's Bandcamp page.
Here's the track list:
CD 1
01. Reactor7x – Disorder (v20.16 Harsh Edition)
02. Encono – Visceral Absorption
03. Hell:Sector – ReHumanize
04. Alien Vampires – Harshlizer (Disorder Faith Remix)
05. 00TZ 00TZ – Ouroboros (Vocal Terror Mix)
06. PreEmptive Strike 0.1 – Death Of Talos Live Mas (feat. Totten Mechanismus)
07. Angels Of Suicide – Dancer Diabolus
08. Kill The Sleeper – I Am The Ocean; I Am The Sea
09. Asdeandare – Imprisonment
10. Larva – The Peace Of Suicide
11. Archazard – Revolution In Violence
12. Psyborg Corp. – Of Visions And Blizzards (Subliminal Code Remix)
13. T3RR0R 3RR0R – The God Of Fire (Terror Night Mix)
14. Schwarzblut – Vogala
15. Technolorgy – 23 (Club Mix)

CD 2
01. nolongerhuman – The Pawn
02. DYM – aDeiu (Terror Night Edition)
03. God Destruction – Redentor (A.D.R.O.N. Remix)
04. Bleeding Corp. – Automatic (Terror Night Edition)
05. Reaxion Guerrilla – Sacrifice (Asinaptico Remix)
06. Viscera Drip – Aggrosex
07. C-Lekktor – Juicio Final (Alien:Nation Remix)
08. Thornsectide – City Of Madness
09. Shadow System – Overkill (Exemia Remix)
10. Cygnosic – Crawl (Homicidal Feelings Remix)
11. Benjamin'sPlague – Sunday Night's Slit Wrist Party
12. Sleetgrout – I Bought Coffins (feat. Cygnosic) (Destructive Noise Remix by Nero Bellum of Psyclon Nine)
13. Chamaeleon – Suppression (Hard Balls Remix by [ Sin.thetic Squad ] )
14. Okkulta – Singularity-B
15. Vault-113 – Ami Go Home (Original by Ernst Busch)