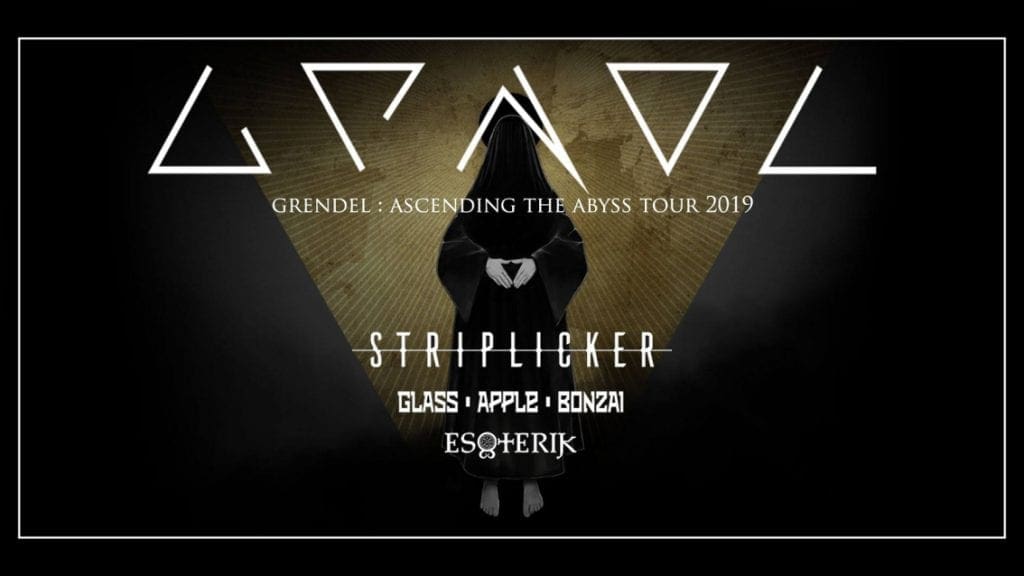 Dutch/UK based industrial-rock artist Grendel has announced their North America tour with industrial artists Striplicker, synthwave artist Glass Apple Bonzai and darkwave upstarts Esoterik in support of their upcoming album "Ascending the Abyss".
Grendel frontman JD Tucker recently changed Grendel's sound with their 2017 album "Age of the Disposable Body", demonstrating a shift away from standard industrial, adding elements of rock, synthwave, post-punk, and darkwave. On the upcoming release Tucker mixes aggressive guitars, 80s style synths and intelligent percussion work.
"Ascending the Abyss" will be available this summer on Metropolis Records (North America) and Infacted Records (EU).
Tour Dates
June 19th Toronto,ON-The Boat
June 20th Cincinnati, OH-Mockbee
June 21st Chicago,IL-Reggies
June 23rd Cleveland, OH-Phantasy
June 24th Ann Arbor, MI-Necto (DJ Only)
June 26th Pittsburgh, PA -Cattivo
June 27th Wilmington,DE-Bar XIII
June 28th New York, NY-Drom
June 29th Boston,MA-Once
June 30th Montreal,QC-Piranha
July 2nd Baltimore, MD-Metro
July 3rd Richmond,VA-Fallout
July 4th Charlotte,NC-Milestone
July 5th Atlanta,GA-Drunken Unicorn
July 6th Tampa,FL-Orpheum
July 7th Tallahassee,FL-926 Bar
July 9th New Orleans,LA-Goat
July 11th Houston, TX-Warehouse
July 12th Austin,TX-Elysium
July 13th Mcallen,TX-Cine Del Rey
July 14th Dallas, TX-The Church
July 17th Mesa,AZ-Club Red
July 19th Los Angeles,CA-Catch One
July 21st Oakland,CA-Uptown
July 22nd Portland,OR-Star Theater
July 23rd Seattle,WA-Highline
July 24th Vancouver, BC-Red Room
July 25th Calgary,AB-Dickens
July 26th Salt Lake City,UT-Urban Lounge
July 28th Denver,CO-Herman's Hideaway
July 30th Kansas City,MO-Riot Room
July 31st St Louis,MO-Crack Fox
August 1st Minneapolis,MN-Red Sea
August 2nd Madison,WI-Crucible
August 3rd Detroit,MI-Smalls
August 4th Buffalo,NY-Mohawk Place