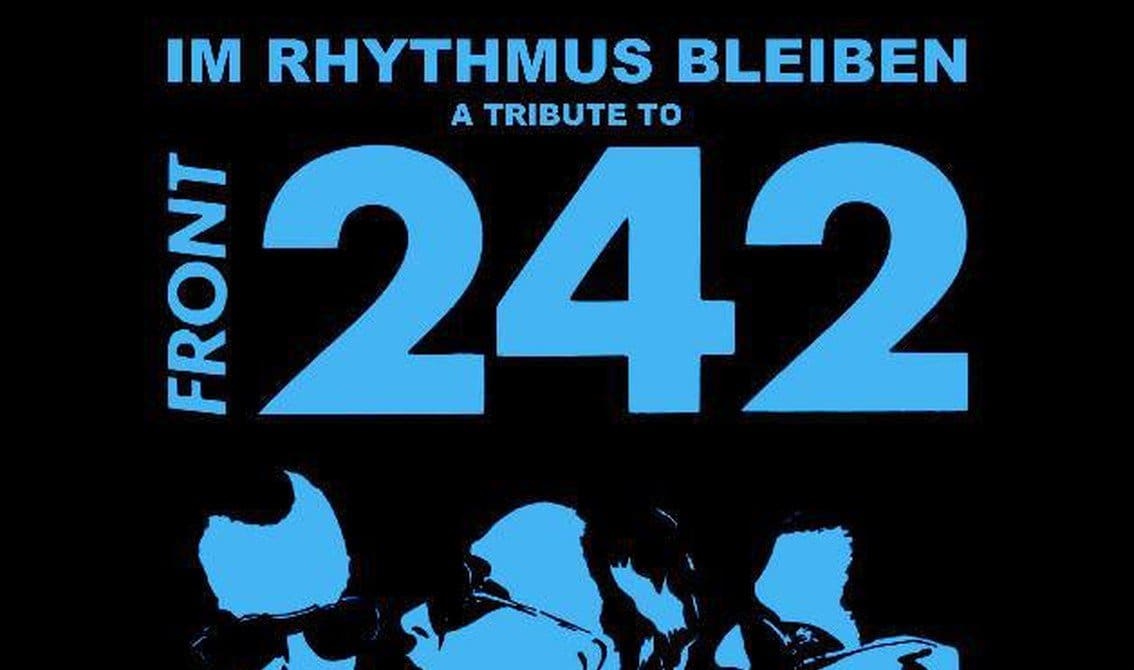 UPDATE: The 'blue version' is almost sold out, 5 copies left, order it right here if you want one.
While we are all waiting for news from the Front 242 front (update: the news is live now, there's a new free downloadable remix EP) a small German label has announced the release of a 3CD tribute to Front 242. The first edition comes in a blue design and is limited to just 242 copies (you can order it right here).
The 3CDs feature 16 bands on each CD for a total of 48 bands (you'll recognise various more well known bands such as Leather Strip, PNE, Kant Kino, Machinista, etc). In total you get 48 covers of Front 242 classics. The brain behind this project is Stefan Rukavina whom you might know from the German Radio Body Music, a label and radio station entirely dedicated to the genres EBM, Anhalt EBM, dark electro, synthpop, futurepop, N.D.W., electronic 80s, industrial and experimental music.
You can order this limited edition set right here.
Artists/ Tracks CD2:
01 OVERGAMENT–Body to Body
02 MECHATRONIC–Operating Tracks
03 THE PAIN MACHINERY – U-Men
04 MRDTC-Least Inkling
05 D-F-O-W–He runs too fast for us
06 LEAETHER STRIP – Don't crash
07 KANT KINO–Lovely Day
08 EUFORIC EXISTENCE–No Shuffle
09 HUMAN NIHIL – Quite unusual
10 SUBSTAAT-Circling overland
11 RHESUS FACTOR & RIO BLACK-Headhunter
12 VAINERZ-Sacrifice
13 NEOTEK feat. MACHINE SOLDIER-Moldavia
14 BICHROM-Gripped by Fear
15 POST MACHINERY ENVIRONMENT-Tragedy for You
16 GIMME SHELTER–Soulmanager
Artists/ Tracks CD2:
01 TOLCHOCK-U-Men
02 KAPITAL-Kinetics
03 SHARON NEXT-GVDT
04 PLASTIC NOISE EXPERIENCE-Operating Tracks
05 SYSTEM 84-No Shuffle
06 56 DEGREES NORTH-Don't crash
07 EVO-LUTION-Controversy between
08 VAYLON feat. LEAETHER STRIP-Quite unusual
09 747 FEDERALES-Circling overland
10 TRILOGY-Im Rhythmus bleiben
11 AD:KEY-Work 242
12 WERKSFRONT-Never stop
13 IN GOOD FAITH-Masterhit
14 VUDUVOX-Headhunter
15 STERIL-Animal
16 PATENBRIGADE: WOLFF-Mutilate
Artists/ Tracks CD3:
01 LES BERRTAS-U-Men
02 reADJUST-Take One
03 MACHINISTA-No Shuffle
04 26Z-Until Death (us do Part)
05 NINE CIRCLES-U-Men
06 THE FORCE DIMENSION-No Shuffle
07 MORTAL MEMORIES-Quite unusual
08 R.B.M.K.-Punish Your Machine
09 SCHRAMM-Headhunter
10 NAKED TEARS-Moldavia
11 DKDENT-No Shuffle (Electone Mix)
12 K-BEREIT-Together
13 DPOINT-U-Men
14 AUDIOTHERAPIE-No Shuffle
15 LASTRAX-Circling overland
16 DROID SECTOR DECAY-Neurobashing