Interview of Noisuf-X: For the 6th time featured at "Endzeit Bunkertracks"!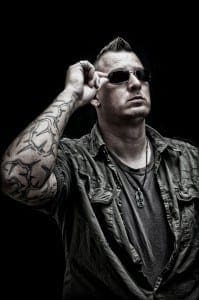 The new volume of "Endzeit Bunkertracks" (the 7th already, available right here) will be released once again as a deluxe 4CD carton box featuring 68 songs mixing dark-electronics, EBM, dark-electro-pop and related genres. The box also contains an extended 32 page booklet masterfully designed by Japanese designer Tomoki Hayasaka. Next to the 4CD there also is a bonus download card giving you access to some 50 additional songs! Side-Line once again has been asked by Alfa-Matrix to recommend some interesting artists. That's why we decided to power this new volume by featuring 10 short interviews of bands that you'll discover on this new volume plus an extra interview by the "Endzeit Bunkertracks" instigator Séba Dolimont.
(by Stéphane Froidcoeur aka DP)
SL: What's the impact of being featured on "Endzeit Bunkertracks" for a band like Noisuf-X?
Jan L: I don´t think the impact on Noisuf-X is that big, to be honest, because Noisuf-X was being featured on every "Endzeit Bunkertracks" from the very beginning. So I could imagine that most people already know Noisuf-X. But it´s a great compilation with many club hits from well known artists and there are also a lot of new bands to explore. For many newcomer bands it´s a great chance to get attention – because this compilation is a must-have for all DJs.
SL: What kind of compilations do you like to get featured on?
Jan L: I like compilations with a quality standard.. means: well chosen tracks and a good track order.
SL: The song "The Typical Fuck You Song" is also one of the hottest of your new album. What did you've in mind when writing this track?
Jan L: I thought that so many bands already have a song called "Fuck You" – it was time to write a 'typical' "Fuck-You-Song" for Noisuf-X.
I just don´t wanted to be the only one without a Fuck-You-Song, hrhr.
SL: What are you actually working on?
Jan L: Beside many mixing/mastering/production works for other bands (check out www.x-m-p.de), I´m producing a few new Noisuf-X tracks for something special this year. But I can´t tell you more about that right now..