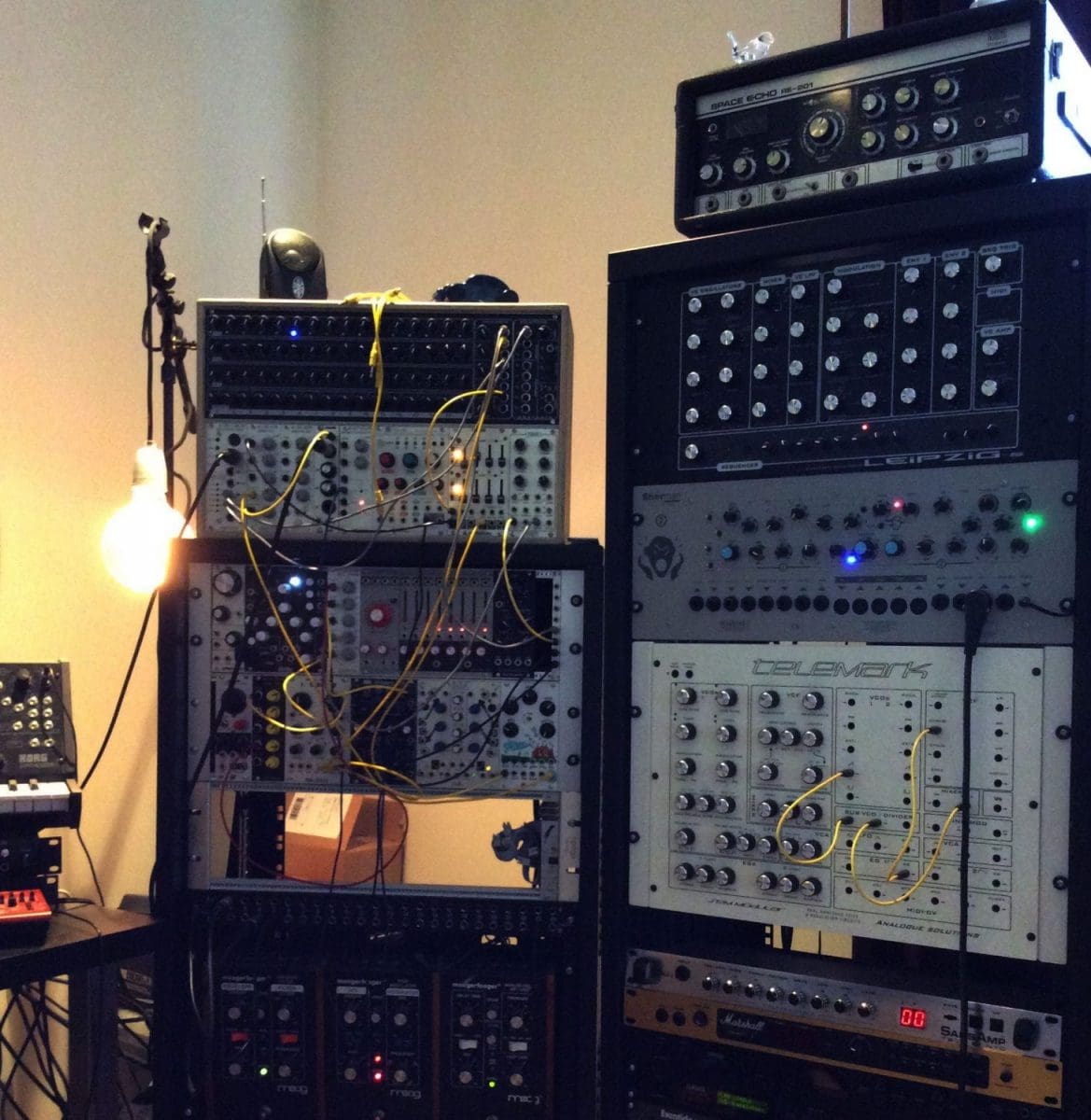 (By our Norwegian correspondent Jan Ronald Stange) In the aftermath of the Electro Spectre remix contest, I had a chat with one of the remixers about… remixing! SnifferGod, aka Alex Møklebust from Zeromancer and Seigmen, produced one of the best remixes of the 20-something tracks that Electro Spectre received, and I thought it would be interesting to hear what he had to say about remixing in general, the creative process behind, his analogue gear, and other things related to remixing other peoples music.
As I was working on this interview, I was tipped that another fellow Norwegian musician, also probably most known abroad, had recently done a couple of remixes himself. Read what Stephan Groth, the main force behind Apoptygma Berzerk, had to say about remixing after Alex' part.
Side-Line: What's your incentive for remixing?
Alex: The main – and fun! – thing about remixing is the freedom to do what you want! And most times there's no high pressure to deliver, but with everything else going on at the same time one usually ends up feeling there's little time to do it anyway. On this particular occasion I did it all by myself, often I remix as Zeromancer and are joined by one or two of the other guys, adding a guitar, bass or something else to make a recognizable connection to the Zeromancer sound.
S-L: When starting a remix you are receiving the original version – do you often listen to it and immediately thinks "I would've done this and that different"?
A: No, not really, I don't think as a producer when starting a remix, not thinking about arrangements. Its more about breaking all the rules, but if course there's one exception to breaking the rules; if its destined for radio there's considerations to be made. If I'd had more time on this particular remix I'd make it longer. I'm 47 years old, grew up when the 12" singles started arriving with those extended versions and long remixes of songs.
The first thing I do is to listen to the various part of the track, to hear if a verse, refrain, bridge or an interlude triggers something I want to work with and program my own version from. What I kept from the original (except the vocal) is their pad, but made it a bit thinner, and I used a melody line underneath my own too.
Then I started with the bass and drums, and work on a sequence until I need another part to build on. Usually I get an idea from a sound I get a kick off and build on that, sometimes I import all the stems (separate sound files of vocals, bass, drums, etc) and search for ideas there, but that often depends of what I actually receive. Some send all the files of the track, some just the vocal.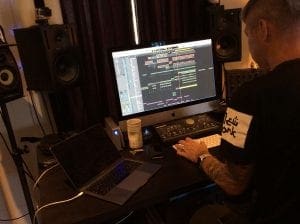 S-L: You asked for the vocal stems without any effects for your version of the Electro Spectre remix – why?
A: I wanted to make a hall reverb effect on the vocal myself and pitch it higher, so it was easier for me to that with the raw vocal, and added some vocoder too at the start. I also like it a bit dirty, so there several noisy elements added.
The arrangement comes later; first I have bits and pieces of ideas for verses and refrains, moving them back and forth until I find what'll move the track forward.
I use a lot of modular synths, and also some soft synths – depending on what'll fit the track. But of course, working with the modular synth are always more fun, even playful. Sometimes I wish I had an education within low current electricity, maybe still not to late? Then I could've fixed synths when they break, and thus be able to spend even more time nerding with them.
S-L: Are there any configurations or settings on your synths that you have kept, thinking "this is for Zeromancer" or something else?
A: No, I mostly use the modular synths for ideas and random stuff to add some mobility to other sounds using filters and so on. Fiddling about with my modular gear is often a big part of getting inspiration, both when doing remixes and getting ideas for new songs, even without a plan you get results.
The most important parts when remixing: don't assume its to be played on the radio or try to make it that way, don't lose that boy-in-the-bedroom feeling – and keep it fun!
S-L: You also been busy with producing and mixing Ljungblut recently?
A: Yes, I've been recording them during live sessions, did some overdub afterwards and then mixed the upcoming album this summer. Will also be doing some programming for other artists in the coming months. Not yet decided what to do with Zeromancer after Dan have left, started on some new songs, but put them on pause, the same with the announced new single that was supposed to be releases in 2018.
For those who still haven't heard this gem of a remix – here it is with the rest of the EP:
Sniffergod/Zeromancer remixes available on Spotify right now:

Stephan Groth also had a lot of thoughts about remixing:
S-L: What's your main driving force for doing remixes?
Stp: I always enjoyed remixing. It is a lot of fun, as well as a great promotion tool. I experiment a lot when remixing, testing out new hardware and software, new styles, grooves, sounds and techniques that I will later integrate in my own songs.
S-L: When starting a remix you are receiving the original version – do you often listen to it and immediately thinks "I would've done this and that different"? Or consider other options?
Stp: Yes, I instantly hear If I can make the song "better" or make a different and interesting version or not. If I don't get ideas right away, after listening to the song once or twice, I rather not remix the track.
My approach to remixing was always trying to make the song "mine" in a way. I`ll try to rearrange the song so that it sounds like it's an APOP song. I want to leave my vibe/feel all over it, and hopefully create something that is unique and interesting. When remixes are too close to the original it often gets boring, unless it adds something unique that the original version lacked.
S-L: You ever add own voices or other elements instead of or in addition to the original stems/raw material?
Stp: Yes! I try to add as many of my own elements as possible, and try to use as few of the original sounds as possible. Normally I only keep the vocals and other important lead elements. I record my own vocals quite often as well, but most of the time I "cover them up" or bury them in the mix so that no one can really tell. I do this only if
I want to add certain harmonies, or if I feel that the vocal arrangement is lacking something.
S-L: What gear do you use? PC, Mac, software, (modular) synths, other stuff?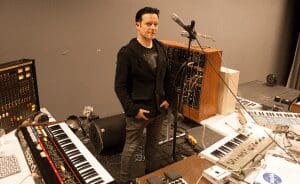 Stp: I have always only used Mac, except for in the very beginning when I used Atari. I am using Cubase and a few soft-synths and samplers, but 90% of what you hear in an APOP remix is from my modular synths and from my analog hardware synths. I used to use soft-synths a lot back when they were new and exciting, but I have a very nice collection of vintage synths, so I rather use them.
S-L: Are there any configurations or settings on your gear/synths that you have kept, thinking "this is for an Apop remix", "this is for an Apop track", or something else?
Stp: I used to never save my presets, because I did not want to use the same sounds again and again. That has changed over the years, lol!
I guess I have gotten more lazy with age.
S-L: What's your most recent remixes?
Stp: Mortiis – "Sins of Mine", Page – "Krasch", Machinista – "Dark Heart of Me" and Peter Heppner – "All Is Shadow" (all included in the playlist below).
S-L: And what's your all time favorite remixes, both your own and others?
Stp: I think the remix I did for Tobias Bernstrup, "Moments Lost (Apoptygma Berzerk remix)" turned out really good, and then there is an old remix that I did on an Icon Of Coil song called "Repeat It" that I think really stood the test of time.
One of my all-time favorite remixes is Hardfloor's remix of Mory Kante's "Yeke Yeke" – the perfect remix! 
While we are on the subject of remixes and collaborations… I would like to mention our upcoming 2xLP/CD/Cassette release "SDGXXV"  that will be out spring 2019 via Tatra Records and Artoffact Records. The album is almost done, and it will feature remixes and collaborations with electronic acts and artists that I admire.
As soon as we have a release date planned, we'll give you all the names of the bands involved, but for now, that's all I can tell you 🙂
Listen to a lot Apop remixes here – thanx to Per Aksel Lundgreen for adding to my list!

---
Since you're here … … we have a small favour to ask. More people are reading Side-Line Magazine than ever but advertising revenues across the media are falling fast. And unlike many news organisations, we haven't put up a paywall – we want to keep our journalism as open as we can. So you can see why we need to ask for your help. Side-Line's independent journalism takes a lot of time, money and hard work to produce. But we do it because we want to push the artists we like and who are equally fighting to survive. If everyone who reads our reporting, who likes it, helps fund it, our future would be much more secure. For as little as 2 US$, you can support Side-Line Magazine – and it only takes a minute. Thank you. The donations are safely powered by Paypal.
---