Genre/Influences: Pop, eclectic-pop.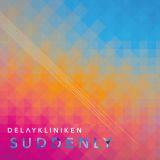 Content: Delaykliniken is without a shadow of a doubt one of the most unusual and innovative pop formations of this scene. They sound a bit like an alien dropped on a pop planet! The band has already been active for a couple of years, but we have to admit that they're not exactly world famous and recognized. They already released several EP's and digital recordings and joined Progress Productions 2 years ago releasing the EP "Young".
Delaykliniken is not exactly playing pop music, they are playing with pop music. This is an important nuance to seize the sound universe of this band. I think they've found a good deal by joining Progress Productions, which is one of the only leading labels, which dares to innovate by exploring unknown paths. The recently released album by The New Division was not that 'conventional' as well, but I also instantly remind bands like Vanligt Folk, Henric De La Cour ao.
So what makes this album so interesting? There's a solid pop basis, which sounds like a guiding line throughout the work and spiced with totally unexpected influences.
The opening cut "Soldier" mixes groovy loops and funky guitar. That's not that weird, but what about the electro-blues minded "Afraid". This is pop music from another planet! It mixes elements you simply can't imagine to merge with each other and yet it works. I'm not saying that it's a great song, but it's original and absolutely innovative.
Another amazing cut is "Leave Them Alone", which is mixing electro-pop and tango music. It's something undone and that's what makes this album special and unique. I also have to mention the somewhat more psychedelic driven "Happy Days", which is another creative composition.
A few songs are more into a 'traditional' pop vein on, which Delaykliniken reveals a sensitive side resulting in a few beautiful songs like "Holy" and "No Matter". The last-mentioned song also reveals the skills of the singer who has a great voice.
Another essential element of the work is the global production, which is absolutely high-tech like. There's a real professional approach emerging from the different elements of the production process.
Conclusion: I'm not sure that Delaykliniken will directly become a 'hot' band, but they definitely deserves a special mention for their creative approach.
Best songs: "No Matter", "Holy", "Afraid".
Rate: (DP:7)DP.
Band: www.facebook.com/DELAYKLINIKEN-180214222053418
Label: www.progress-productions.com / www.facebook.com/progresspro