Genre/Influences: Electro-pop, minimal-pop, wave-pop.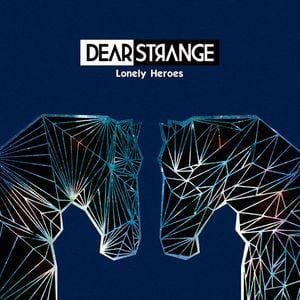 Content: Dear Strange is a new duo based in Berlin, which caught my attention as they got signed to Out Of Line. Behind this band is hiding Romain Frequency (mainly known for his Electrosexual project) and singer Dorian E (singer of the dreampop-like Seasurfer). Both artists have already worked together in a common project called Kaleid, but Dear Strange is their newest music exposure.
I didn't know what to expect from Dear Strange and I became really curious to know how it would sound as I've always supported the minimal-electro style of Electrosexual and the dreampop/shoegaze orientated Seasurfer (signed to Saint-Marie Records). Dorian E's timbre of voice remains a great experience of a fragile timbre of voice mixed with emotion and passion. She has a unique timbre of voice leading the listener into reverie while cascading over the sound created by Romain Frequency with a delicious sensual layer.
"Lonely Heroes" doesn't exactly sound like a debut album. You get the impression that both artists are working together for years and years. Music and vocals rapidly appear to be an ultimate artistic symbiosis. But more than this, "Lonely Heroes" features 11 songs and I can't say that there's one single cut to throw away. There's a constant high level of sound quality and song efficiency resulting in several great songs. Maybe there are too many outstanding passages so it becomes difficult to tip potential hits.
The opening track "The Unicorn" has been released as single as well. I can't say that it's my favorite cut, but it directly indicates the sound approach of this band. It's dark-pop minded and sweet sounding while accomplished by a real professional production process.
The title song coming up next reflects passion while coming closer to indie-pop music. The song is driven by a great, carrying chorus and a sexy touch emerging from the vocals (featuring a few French spoken words). The album moves on revealing all his secrets on "Dystopia" and "I Can See Through This". Both songs perfectly represent the minimal pop approach of Dear Strange. There's a fascinating mix between vintage-like sound treatments resulting in a kind of wave-pop style and special effects, which you'll hear in the production of the vocals. The vocals sometimes become a bit mysterious and somewhat androgenic-like. I also have to mention "Strangers As We Are" for its irresistible low resonating bass line and the sumptuous chorus.
"Between The Sunsets" sounds harder through its dance-kick –which makes it very accessible for dancefloors, which is an essential element to conquer a wider and club-orientated audience. "A Hand Full Of Nothing" simply confirms the magic emerging from this work. The last few cuts remain well-crafted and totally accomplished while getting back to some wave-pop fields.
Conclusion: "Lonely Heroes" for sure is one of these albums that adds something extra to electronic-pop music. The main strength of Dear Strange is the fusion between a transcendental singer and a visionary musician.
Best songs: "I Can See Through This", "Strangers As We Are", "Dystopia", "Lonely Heroes", "Between The Sunsets", "The Unicorn".
Rate: (DP:9)DP.
Band: www.facebook.com/DearStrange
Label: www.outofline.de / www.facebook.com/outoflinelabel