'Click Interview' with Zwaremachine: 'Minimal Hypnotic Industrial Body Music'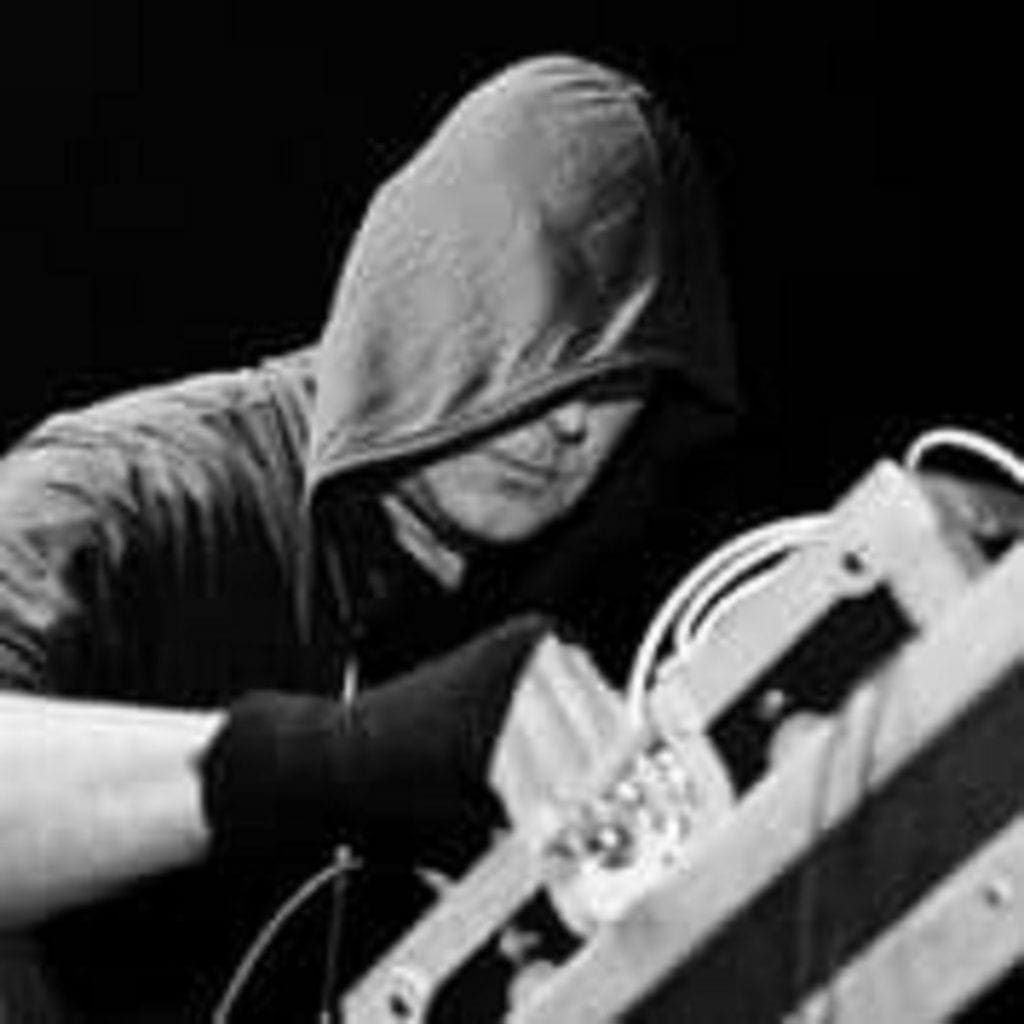 Did you ever heard of Zwaremachine before? Based in Minneapolis (USA), 'Mach Fox' released different productions on German-, Italian-, French- and Russian net labels. In about 2012 he wrote and released a song titled "The Zwaremachine", which also became the band name because the song could represent a back story for the band that Mach Fox could build a world of music and images around. He liked that idea of creating a visual style music and love the horror/sci-fi genres in relation to live performance, artwork and sounds. There was also a heavy inspiration from the artwork of Paul Gerrard. The official debut album "Be A Light" released on Phage Tapes, revealed an intelligent EBM-inspired format. Time now to discover an interesting new name active at the wider fields of EBM and dark-electronics.
(Courtesy by Inferno Sound Diaries)
Q: I'm sure Zwaremachine is a new name for electro lovers so can you briefly introduce us and give us some background information?
Mach Fox: Thank you for this opportunity to introduce myself and band to your readers. I am a musician and VJ/visual artist from Mpls.Mn.USA and perform as 'Mach Fox' and also with my band Zwaremachine.
Horror/sci-fi and theatrics are always something I have been drawn to in live performance and try to bring to my projects over the years. Hearing songs like "Cars" by Gary Numan and "Collapsing New People" by Fad Gadget gave me an early interest in electronic music while I was still into rock and punk music. I didn't comprehend how those songs were made, but was instantly and very deeply drawn to that music and those other-wordly sounds. I was primarily a guitar player and come from a punk DIY background.
Zwaremachine is a solo-project much like I had done with my prior band Mach Fox. I tend to write and record most of the music myself and bring in other musicians for the studio and live performance once the direction and mood is established.
Q: You claim to be inspired by some famous EBM artists. What do you especially like in this music style and what are the main characteristics of your own sound?
Mach Fox: For EBM in particular it is the drums and basslines that I find very exciting because of the visceral and urgent feelings they produce. It can be hard and menacing or groovy and sexy with simple well-placed elements to create those emotions.
I describe Zwaremachine music as 'Minimal Hypnotic Industrial Body Music'. I wanted to blend elements from many electronic genres and also incorporate some of my other influences in the arrangements and production.
I love working with sequencers, drum machines and synthesizers as my band member and find that composing these tracks as solo artist makes it easier to follow a sound and idea through to the end without any compromise. With the songs on "Be A Light" I chose a particular sound set that I really connected with and took those sounds into the songwriting process to inform the moods and arrangements on the album. Those sounds and much of the equipment I used were most noted in electronic music associated with some great artists from the 80s and 90s.
The mixing and mastering was done with a bit more modern approach, but I fiercely fought to keep those characteristics that made the basis of the sound.
Q: You just mentioned the album "Be Alight", which got released earlier this year. What is the album all about and what are you favorite elements/parts of the work?
Mach Fox: The final songs for the album were chosen from several I had written and began performing live in the Spring of 2017. Some were written and performed in earlier versions of Zwaremachine, but I chose new sounds as well as new arrangements. As the live sets progressed over the Summer and into the Fall I was able to pick out a body of work that was focused on a style and attitude that would become the core of the album and future of the band. That was a very important period for me and I wanted to retain the earlier electro-industrial style and bring a more personal influence on the new music I would release.
I have to also mention Paul Gerrard again because the influence of his amazing artwork is a part of the lyrics on many of these songs and probably my favorite element since it perfectly fits the world this music lives in. I consider him as part of the band as well. Themes of horror, cyber futuristic worlds and science fiction are all over this album.
Q: The album features 7 songs plus 7 remixes. You don't exactly chose famous and familiar artists. How comes and what do you like about remixes?
Mach Fox: I have many artist and musician friends that have contributed great amounts to help me with different projects throughout the years and I'm very loyal and grateful for that. All of these remixers I contacted are either close friends, former band members and they do great work themselves.
I wanted some very original approaches to the remixes that would show their strengths and not the typical agro-dance remix approach (though some did that very well!) that is in the club/industrial scene. I could probably provide a great story behind my relationship with each of the remixers, but that can be another time.
This was a personal work and I felt it best to keep it close and promote some friends who have helped and inspired me so much over the years.
Q: I've been impressed by the sophisticated production, which reminds me to early Skinny Puppy mixed with the elegance of Plastic Noise Experience. Do you recognize yourself in this description and what are your personal criteria/ and references when composing?
Mach Fox: Yes. and thank you. As mentioned above I specifically chose those sounds and that production because it created that mood and emotion I was looking for in these songs. This style also promotes an energy that I can bring into the live performance. I understand those references and I did not set out to be compared to those bands, but while using the same hardware and approaches of the bands I admire I guess that would happen.
Q: The album has been released on Phage Tapes, which is a label based in your hometown Minneapolis and, which I think is more focalized on 'noise' and 'industrial' music. Do you feel related with other label mates and what do you expect from a label in times labels are complaining about sales?
Mach Fox: Working with Sam and Phage Tapes has been an absolute pleasure. It's really great to be a part of that label and appreciate the work he does with all the releases and especially Zwaremachine.
I didn't know much about the label when he had offered to release a CD/cassette after I announced there would be new recordings. He had already seen the band several times and said he had interest to expand the label and include some industrial and other electronic acts. As I researched the label I realized some respected friends in the electronic/noise scene had released thru the label and was interested in his offer.
Once the recording process started I was sending demos out to other labels I had been influenced by or thought we could benefit from releasing together and the response was slow or no interest. It made sense to release through Phage Tapes since I began to admire and learn about the label and I felt there was genuine enthusiasm about working together and the communication was clear. …and he could release as soon as the mastered recordings were available instead of waiting in a line of other releases and the recording not coming out for months.
Some of other artists on Phage Tapes released at the same time as our album like Spit Mask, STCLVR, Synaptic Memories all have very strong releases and I don't think Phage is going to stop finding great albums to put out anytime soon. I know that Phage is releasing music to streaming services and just recently made more releases available through Cold Spring Records store in the UK as a way to avoid high shipping costs from the U.S. to places around the world. I feel like a part of the label and other bands and will continue to promote the label's other artists as well as my own release because it's really great stuff coming out.
Since you're here …
… we have a small favour to ask. More people are reading Side-Line Magazine than ever but advertising revenues across the media are falling fast. Unlike many news organisations, we haven't put up a paywall – we want to keep our journalism as open as we can - and we refuse to add annoying advertising. So you can see why we need to ask for your help.
Side-Line's independent journalism takes a lot of time, money and hard work to produce. But we do it because we want to push the artists we like and who are equally fighting to survive.
If everyone who reads our reporting, who likes it, helps fund it, our future would be much more secure. For as little as 5 US$, you can support Side-Line Magazine – and it only takes a minute. Thank you.
The donations are safely powered by Paypal.