'Click Interview' with Maschine Brennt: 'Kraftwerk Is Very Important For Maschine Brennt'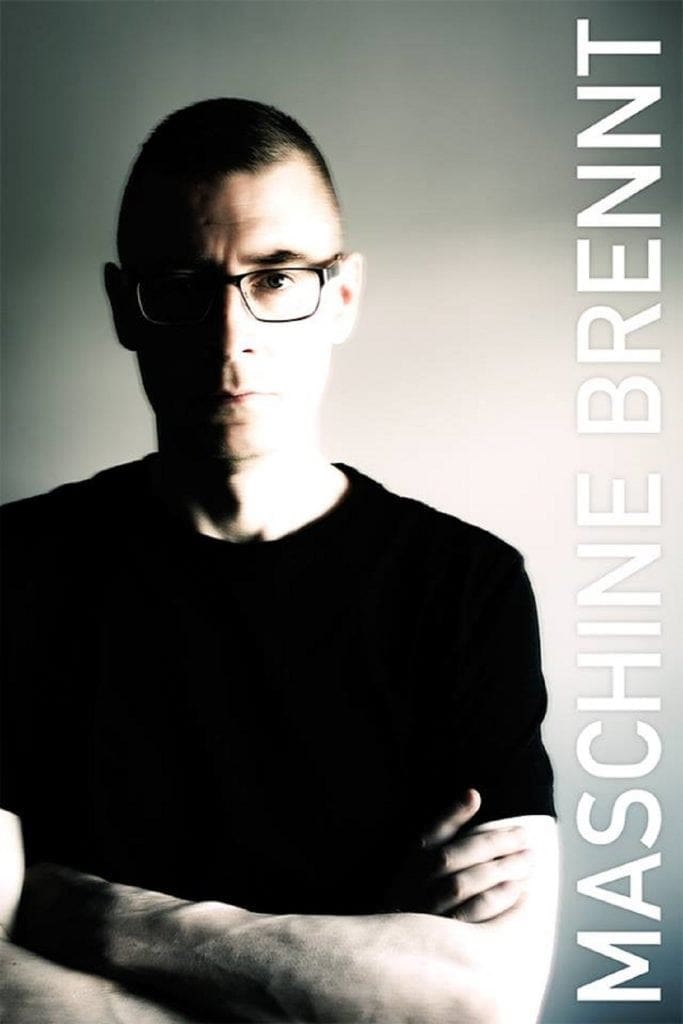 Behind Maschine Brennt is hiding Joacim Thenander. This Swedish musician has been involved with numerous bands and multiple music genres, but Cultivated Bimbo is without a shadow of a doubt the most famous name for all lovers of EBM and experimental electronics. Maschine Brennt has been set up around 1992 as a side-project to Cultivated Bimbo. And as Joacim explains 'The main reason was to present music as if the machines had made it. In the beginning I used whole-tone scales and such, to remove the human feel and make it more mathematical. The rhythms were always hard-quantized and very seldom played on velocity sensitive keyboards or pads. The name Maschine Brennt is taken from a B-side of one of Falco's singles'. Maschine Brennt released several singles during the past few years while the debut full length "The Hearing Aid" has been released during 2017. This is a great album appealing for all lovers of Kraftwerk-electronics'.
(Courtesy by Inferno Sound Diaries)
Q: You're kind of 'electro-veteran' who has been involved with multiple bands and projects since the late 80s. What have been your greatest satisfactions as an artist since then?
Joacim: Mainly I make music for my own pleasure. It has been loads of different styles and genres spinning from synth/electro to heavy metal. For a long time I did a lot of house/techno songs, and also drum'n bass. I do it for myself. But I also publish tracks on different sites and labels and love to get reactions. The greatest satisfaction is if I find out that my music actually appeals to people more than to myself. That is the main fuel for me making music.
Q: I noticed you are already composing music under the Maschine Brennt moniker since the 90s. What makes this project different from the other ones you've been involved with and why did it take that long to release your debut album?
Joacim:: I used the name Maschine Brennt during a few (three, I think) shows 1992-1994. I made music for the specific shows, and didn't release anything at the time. After that I made other styles of music, mainly dance/club using different aliases. I released a few singles, but mostly digital on different community web sites and so on.
In 2014 I met Jonas Lund (Kretz) who asked me to join Plonk. I started using the old name again because the style Plonk aimed for, was very close to what I've made with Maschine Brennt. For instance, when I make drum'n bass I use the name Killa Dawgs and when I make house I use the name Joey Lucas. When it is 'computer music' I use the name Maschine Brennt.
The reason I made an album was simply because a friend of mine asked me when the full-length will be released. If it wasn't for him I still would be doing singles only.
Q: "The Hearing Aid" has been released in 2017. Tell us a bit more about the writing, recording, influences and sound plus how do you look back at the work right now?
Joacim: "The Hearing Aid" is a collection of old tracks (mostly), but reprogrammed and remixed. To make a full-length album from scratch is a massive load of work, and I didn't have the time or patience to do it all from start. I am proud of the album and I like it a lot. Maybe I would have done a couple of things differently today, but I see the project as a timestamp, and like to focus on NOW.
Because the album was a Plonk release from the beginning, I wasn't too afraid to show the Kraftwerk influences, and actually did so frequently throughout the album.
Q: The sound of Maschine Brennt indeed clearly reminds to Kraftwerk. What does Kraftwerk means to you in terms of sound creation, impact on your own work and artwork?
Joacim: Kraftwerk is very important for Maschine Brennt. But they have a soul, and I want my music to sound less soulful. Remember -music by machines. I absolutely love some songs by Kraftwerk! Sometimes only fragments. But there are also songs I really don't like.
My strongest influences are by artists that have been influenced by Kraftwerk; 2nd generation, so to speak. Afrika Bambaataa, Arthur Baker, John Robie, Man Parrish, Atom™ (especially Lassigue Bendthaus), Anthony Rother and more. If I was to create a list of the best synthetic computer tracks ever made, I'm not so sure Kraftwerk would be on that list. But if it wasn't for Kraftwerk that list wouldn't exist. I hope that makes sense.
Regarding the artwork, it felt natural to dress up like the Germans to reflect the sound of the album.
Q: Can you tell us a bit more about your way of composing, eventually personal references and criteria you're using when writing songs, favorite equipment and what do you consider as the main strengths of the album?
Joacim: I am very satisfied with how I tied the tracks together on "The Hearing Aid". It should be listened to in one take -as all albums. That is the main strength, I think.
My biggest disadvantage is that I don't know how to write lyrics. I absolutely love computerized voices and would love to do standard pop songs with verse, bridge, chorus and so on, but I really can't write lyrics. "Backspace" in fact reflects on that.
My music is very rhythm-oriented. It is hard to do melodies without sounding cheesy, so I usually don't. Drums, bass and more percussion. Hopefully a voice saying something smart (but usually stupid), and the inevitable breakdown (with Kraftwerk's "Home Computer" as the template). I like my music to be danceable. At least you should be nodding your head. I always start with the drums. The rhythm is very often programmed like "Numbers" (or Afrika Bambaataa's "Planet Rock" if you wish). I use a lot of samples -sometimes from my own machines – and Ableton Live is my DAW. For some edits I use Propellerhead Reason which I absolutely love.
But I also use some hardware. Mainly Roland Boutiques and a few KORG synths. I like to have control with other than the computer mouse, so I use Novation controllers and Native Instruments Maschine (mkII and Jam) and Komplete Kontrol.
Some of my favourite pieces when making Maschine Brennt songs are Ableton Live and Novation LaunchControl, Roland TR08, Native Instruments Maschine mkII, Sonic Charge BitSpeek, Waves Pumper, iZotope Ozone. I also use Ableton's Reverb, Ping Pong Delay, Utility, Limiter and Compressor on each and every track I make.
Q: Your album has been released on Razgrom Music while you were (or still are) part of the so-called 'Plonk Community'. What is it all about? Why is it that much more than simply a label releasing 'computer/robotic' music?
Joacim: I was contacted by Alexey Ignatov of Razgrom Music. He wanted to release a full-length CD with a collection of my tracks. Maybe a single collection. I had just finalized the album for Plonk and was about to release it digitally. I suggested that we could release the very same album on Razgrom Music. To make it a little more special I added four more unreleased tracks, and the cover was made in color on the Razgrom Release. We postponed the digital release to be two weeks after the physical release.
So in short, the physical release is Razgrom Music. It contains four more (previously unreleased) tracks, and the cover is in color. The digital release is Plonk and the cover is made in black and white.
Plonk is a community with around ten members/artists. Every artist takes care of their own release. Plonk doesn't have a leader or chairman. We have web meetings every now and then, to enlighten each and everyone what's up and on. The aim for Plonk is to present music with a strong 'Düsseldorf sound' from one single place -Plonk. We support and help each other as much as needed. Every year we release a compilation with tracks from the current Plonk artists. We believe we are stronger as a whole and that if we help each other we can bring 'Machine-Pop' to the world!
Since you're here …
… we have a small favour to ask. More people are reading Side-Line Magazine than ever but advertising revenues across the media are falling fast. Unlike many news organisations, we haven't put up a paywall – we want to keep our journalism as open as we can - and we refuse to add annoying advertising. So you can see why we need to ask for your help.
Side-Line's independent journalism takes a lot of time, money and hard work to produce. But we do it because we want to push the artists we like and who are equally fighting to survive.
If everyone who reads our reporting, who likes it, helps fund it, our future would be much more secure. For as little as 5 US$, you can support Side-Line Magazine – and it only takes a minute. Thank you.
The donations are safely powered by Paypal.