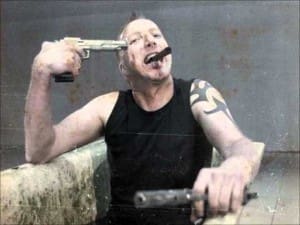 As expected, also the YouTube account of Anton Lundin-Pettersson has been discovered by the mainstream media and as a result another band is being named in various newspapers besides Rammstein: Suicide Commando (including in Belgium where Het Laatste Nieuws added the band in its reports). In the past 3 days the Trollhättan attacker liked 2 videos of the Belgian dark electro act: "Feeding My Inner Hate" album and "Hate Me". In the aftermath of what happened these songs are somewhat prophetical.
Says Sven Ummland, a local Trollhättan resident and Side-Line reader: "So far none of the newspaper reports are directly linking the bands he listened to to the attacks, as far as inspiration goes, but it's just a matter of time before political correctness will settle in…" Let's hope that won't be the case.
Other bands that might expect to be linked (since in his playlist on YouTube) are In Strict Confidence, God Module, KMFDM, Bauhaus, Acylum, Marilyn Manson, to name just a few.
In the vicious attack yesterday, 2 people were stabbed to death by the masked Anton Lundin-Pettersson: a teacher and a young boy. The incident happened in a 90% migrant school and was clearly inspired by racism. Two other people were injured.