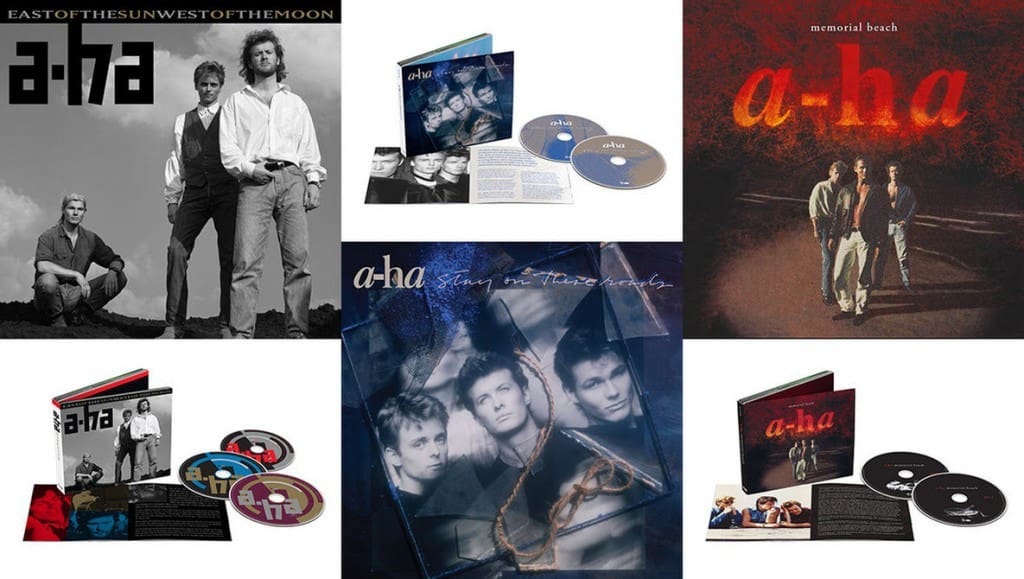 a-ha fans have plenty of money to spend this year. After the 30th anniversary edition of "Take On Me" on vinyl, the new album "Cast In Steel", the 5CD deluxe boxset of their debut album "Hunting High And Low" (available right now from Amazon De
and Amazon UK), the band now announces 3 further releases. Included are "Stay On These Roads", "East of the Sun, West of the Moon" and "Memorial Beach".
Each reissue will feature the remastered original album, plus an additional disc of bonus content including demos, alternate versions and classic live performances. The sets are expanded further with new liner notes by music journalist Kieron Tyler. And what's exactly the best surprise is that "East of the Sun, West of the Moon" will also feature a DVD of "Live in South America", first released on VHS in 1993 and later on Laser Disc in Japan but made available here on DVD for the very first time ever.
Across the 3 releases fans will be able to discover nearly 50 (!!) previously unissued tracks including a selection of previously unheard recordings. The 2CD set "Stay On These Roads" (augmented with 5 extra remixes on the first disc) for instance comes with a bonus disc holding 20 previously unreleased tracks (from demos to alternate mixes and different versions of album tracks). The second disc of the 3 disc set "East Of The Sun West Of The Moon" holds 18 tracks including early versions, demos and the might sought after NRK vault live recordings of this most intimate album the band ever recorded. The DVD has the 10-track "Live in South America" concert which must be one of the most bootlegged live videos from the band. "Memorial Beach" has 2 extra tracks on the 1st disc and 16 more previously published ones on the bonus disc including demos, alternate versions and 5 Sentrum Scene live recordings from March 17, 1994.
The sets will be released on October 23, we'll let you know when pre-orders are available.
In further news, a-ha's 'Rock in Rio' concert will be streamed live in Europe on Monday September 28. at 3:30 a.m. CET via this link.
a-ha's new album "Cast In Steel" is out now can be ordered on iTunes (including 6 bonus tracks). If you prefer the CD format, then head here on Amazon Germany
to get hold of the "Cast in Steel" fanbox set
.
You can order the 4CD/DVD set of "Hunting High and Low" right now on Amazon De
and on Amazon UK
!