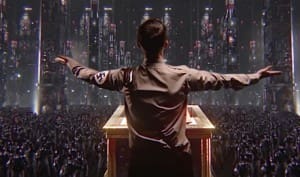 Kung Fury, a 2015 Swedish martial arts comedy short film written, directed by, and starring David Sandberg, is one of those short films you must have seen if your roots are in the 80s. It pays homage to 1980s martial arts and police action films but also is a tongue in cheek reference to today's Iron Sky series where Adolf Hitler and his nazis are omnipresent. The short film is edited this way that you are like watching a VHS cassette with the necessary errors in it, all there for your viewing pleasure of course.
The film was crowdfunded through Kickstarter from December 2013 to January 2014 reaching no less than US$630,019, exceeding the original target goal of $200,000, but falling short of the feature film goal of $1 million.
The lead character Kung Fury, played by David Sandberg, is a mix of Clint Eastwood (accent, dialogue lines – including the famous punk reference – even some of the plot, it's all there although none of the Belgian newspapers recognised it, I guess there are a bit too young) and the Karate Kid (the looks including the red scarf and the moves). It wouldn't be a Swedish movie without some cute women: Eleni Young as Barbarianna and Helene Ahlson as Katana (voiced by Yasmina Suhonen). There's also a cameo for David Hasselhoff dong the voice of Hoff 9000, the board computer of Kung Fury's sports car. Film references include Dirty Harry, Back To The Future, Tron, Dragon Ball, Knight Rider, The A-team, and so on.
Also included is a soundtrack featuring the worst synthesiser lines you can imagine, typically 80s of course.
The film is available for free, you can watch it below! Have fun!