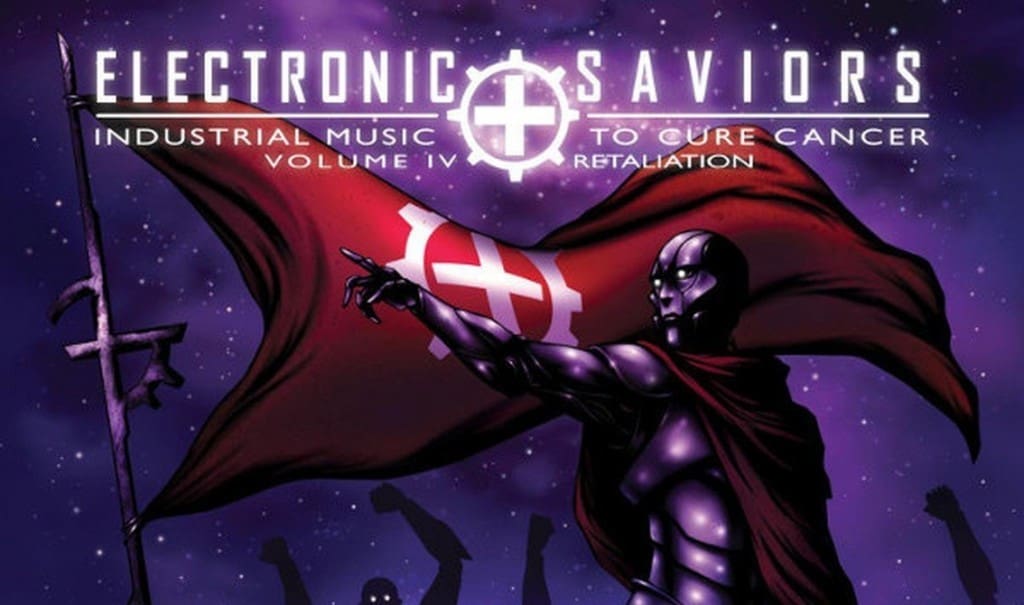 "Electronic Saviors: Industrial Music To Cure Cancel Vol. 4 – Retaliation" is the 4th volume in the 4CD boxset series started by promoter, DJ & musician Jim Semonik. Jim Semonik was diagnosed in 2008 with stage 2B colorectal cancer. While fighting it, he created the Electronic Saviors industrial compilations which is now reaching its forth volume. This fourth volume, called "Retaliation", continues the series where the bands, artists, and label donate 100% of their proceeds.
You can order the new volume right here, and if you haven't ordered the previous ones, check out the other volumes right here.
This time you'll find contributions by KMFDM, Dark Clan, Ghostfeeder, Panic Lift, Deathline Int., Rein[Forced] feat. Interface, Seabound, Deathproof, Mindless Faith, Binary Park, Iris, More Machine Than Man, Suicide Commando feat. Jean-Luc De Meyer, Massiv in Mensch, Rodney Anonymous, Eurasianeyes, Cenotype, Stoneburner, am.psych, Blutengel, Ashbury Heights, Ego Likeness, Ghost & Writer, Blownload, nolongerhuman, SHIV-R, Formalin, Red Lokust, Cyanotic, Coldkill, Am Tierpark, Inertia, K.P. Riot Brigade, Neuroactive, Solitary Experiments, Go Fight, Interface, En Esch, Cancerface, Null Device, Noir, Seeming, Spider Lilies, Tenek, Dope Stars Inc., Seven Trees, Exageist, IIOIOIOII, Caustic, Primitive Race, Cervello Elettronico feat. Claus Larsen, Black Volition, I:Scintilla, Massive Ego, Encephalon, Cable & Berdysz, The Rain Within, Information Society, Electrovot, Bella Morte, Solar Fake, Hardcore Pong, Psy'Aviah, Society Burning, Hype Factor, Stiff Valentine, Decoded Feedback, Slave Unit, Leæther Strip.