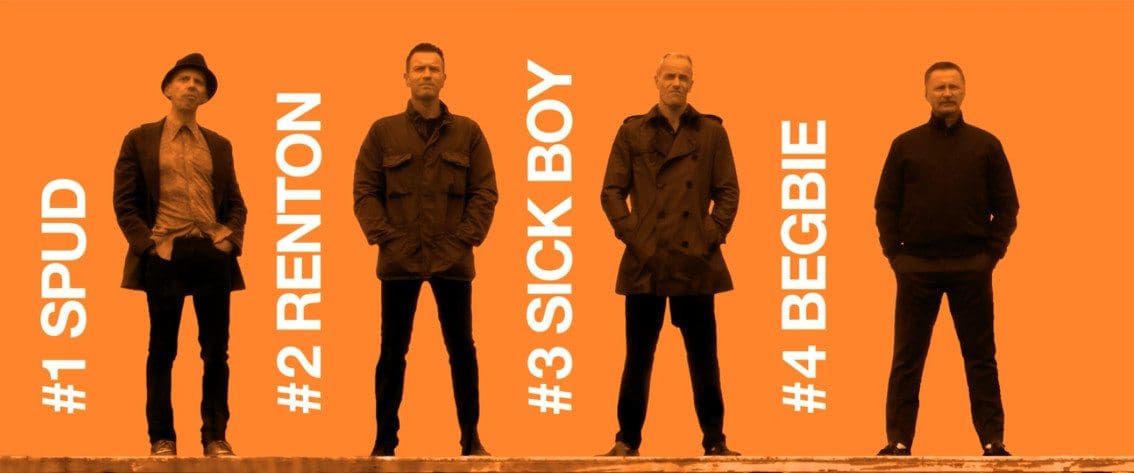 The complete "Trainspotting" cast is returning for a sequel as we reported a while back.
And now Sony also launched a first glimpse of "T2", the sequel which takes place 10 years after the first film. Director Danny Boyle stays on board just like the original cast consisting of Ewan McGregor, Ewen Bremner, Jonny Lee Miller and Robert Carlyle.
You can view the 46 second long trailer below.
The 1996 British black comedy crime drama "Trainspotting" was based on the novel of the same name by Irvine Welsh. Ewan McGregor (Rent Boy), Ewen Bremner (Spud), Johnny LeeMiller (Sick Boy) and Robert Carlyle (Franco) will again be featured in the sequel which will be loosely based on "Porno", the novel published in 2002 by Scottish writer Irvine Welsh
The book describes the characters of Trainspotting 10 years after the events of the earlier book, as their paths cross again, this time with the pornography business as the backdrop rather than heroin use. The film will take place 9 years after the original film.
Here's how "Trainspotting" looked like…
Since "Trainspotting" the leading characters have been doing quite some acting work. Bremner for instance has played supporting roles in blockbusters such as "Pearl Harbor" and "Black Hawk Down", in which he appeared alongside Ewan McGregor (which he has again since, in "Perfect Sense" and "Jack the Giant Slayer"). Miller has risen to fame with his splendid acting work in for instance "The Flying Scotsman" (2006) and "Endgame" (2009). He currently stars as Sherlock Holmes in the CBS crime drama "Elementary". Carlyle could be seen in "The Full Monty" (1997), "Ravenous" (1999), "28 Weeks Later" (2007) and many more films and television series. Finally there's McGregor who has had success in mainstream, indie and art house films such as the young Jedi Obi-Wan Kenobi in the Star Wars prequel trilogy (1999–2005), "The Ghost Writer", and so on.