Genre/Influences: Experimental, Cinematographic, Dark-Ambient, Abstract.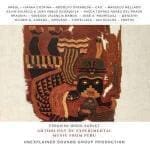 Format: Digital, CD.
Background/Info: Italian label Unexplained sounds Group moves on exploring the Experimental music scenes from around the globe and sharing with us some unknown scenes. Earlier this year the label released a new chapter in its now legendary series devoted to the Peruvian Experimental scene.
Artists: Arbol, Ivanka Cotrina, Rodolfo Ontaneda, CAO, Marcelo Mellado, Kevin Salkeld & Juan Pablo Egúsquiza, Paola Torres Núñez Del Prado & The People Of Tupicocha, Brageiki, Vanessa Valencia Ramos, José Alfredo Rodríguez, QSN10-97, Wilder Gonzales Agreda, Norvasc, Fiorella 16, Ian Duclos, #DMTh5.
Content: The title of this series has never been appropriate for this new compilation. Most of the artists are dealing with Experimental and even a deeply Abstract approach of music. Sometimes it's even more than Experimental, but simply a kind of imaginary atmospheric images of the people and streets in Peru. Lots of field recordings have been used here.
+ + + : Unexplained Sounds Group has used us to discover rather- and totally unknown Experimental scene from this planet. So it always is an opportunity to get a better idea about the sound and potential of distant scenes. I honestly never heard of one of the featured Peruvian artists of this compilation. So in the end the compilation becomes a way to improve our knowledge. I discovered a great track by Kevin Salkeld & Juan Pablo Egúsquiza, which is mixing an Ambient sound together with ritual elements.
– – – : This compilation is for sure one of the most Experimental ones in the series. Most of the tracks aren't exactly the most accessible. So even if I never heard of those artists before, I'm afraid I will not keep most of them in mind.
Conclusion: This compilation series remains an instructive experience.
Best bands: Kevin Salkeld & Juan Pablo Egúsquiza, Paola Torres Núñez Del Prado & The People Of Tupicocha, Ivanka Cotrina.
Rate: 6.