The 'Face The Beat' interview: 10.000 downloads and counting!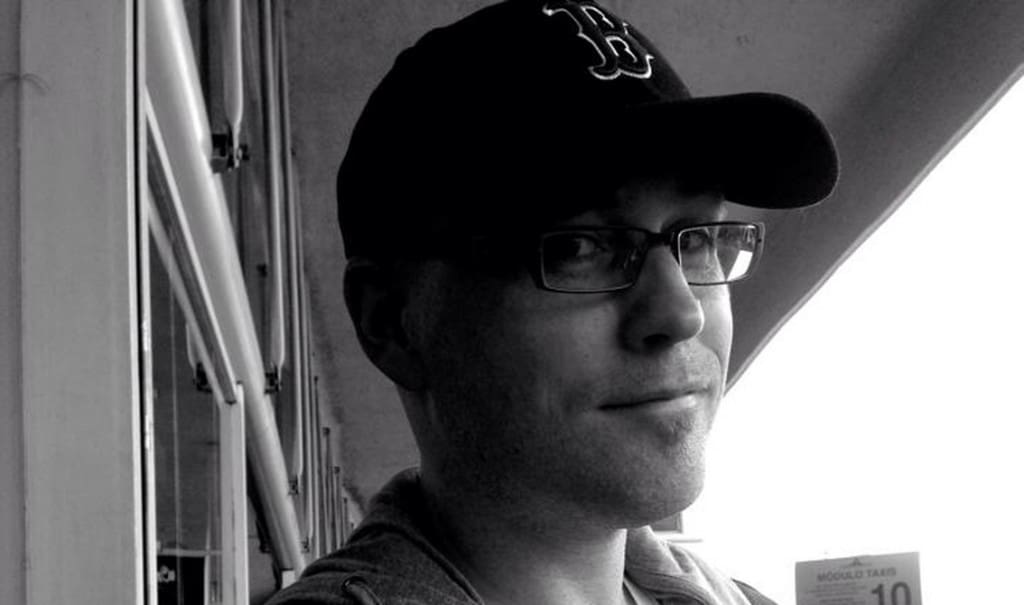 Bernard Van Isacker while being in Mexico. Picture by Elise Din.
(By Eldrina Mich) The download 52-track compilation "Face The Beat: Session 2" (you can download it here) powered by Side-Line is doing very well. Since the free download was launched a few weeks ago, the compilation reached the number 1 spot on Bandcamp after a few days being the most downloaded release on the platform, it reached over 10.000 downloads as we speak and has created quite an online buzz. Compiler of the massive 52-track compilation is Bernard Van Isacker, chief editor of Side-Line. It wasn't the first time he did this, in 2011 the first volume of "Face The Beat" attracted a whopping 24.000 downloads and got praises from allover the world. We decided to interview him for once.
SL: The compilation is quite unique in this scene. Where did the idea originate from?
Bernard: There are many compilations around, but hardly any of those focus on new (unsigned) bands from all kind of genres within the dark wave scene. The reason is that it is commercially speaking not interesting enough. Which is understandable. However, at Side-Line we have always wanted to support young bands, whether via news items or reviews and a download compilation was the only other way to promote these newcomers even further. So 4 years ago I started with the first volume which was primarily promoted via Facebook, hence the name "Face The Beat". But anno 2015 "Face The Beat" is synonym for giving newbies a platform to showcase their work. Anyhow, Side-Line is a breeding ground for new talents since the early beginning although some people might not always realise this as we work a lot behind the scenes to push bands. Our chief reviewer Stephane Froidcoeur for instance is one of the most important headhunters for the "Endzeit Bunkertracks" series and I have been helping out a lot of starting bands to find a decent home for their releases plus I run the Official Side-Line Playlist on Spotify which has a lot of traction, probably because of the not so 'mainstream' track selection :).
SL: The first volume had quite an impact back in 2001!
Bernard: With over 24.000 downloads, that first volume was really a bomb unleashed on the internet and the scene. Several bands present on that compilation got a bigger recognition such as Electro Spectre who is now an established and recognised electro pop act. I'm kinda proud to have been one of the early boosters behind their career and I have been following what they have been up to ever since.
SL: Will you again reach the 24.000 milestone?
Bernard: It's not really my target to be honest, but the new volume is doing pretty well so who knows. But most of all I'm very glad that it will enable us to finance our charity projects.
SL: I was surprised to learn that Side-Line has been supporting charity since it's early start?
Bernard: That's maybe for many a surprise because I have never communicated a lot about it. The charities Side-Line has funded since 1999 include Plan International (a great organisation doing outstanding work), mobile kitchens in Athens (Greece) for the poor and homeless people, social education programs for disabled people, and so on. Both Stephane and I have our daytime jobs and we have never been paid whatsoever to run Side-Line and are not interested in being paid anyhow. Side-Line is a fun project and if it generates cash, then we prefer giving it to people who need it. I have been too many times to countries where people live in poverty; it made me realise many of us, if not most, should be happy with the luxurious lives we have even when our neighbour maybe earns tenfold :). We have flat screens, a car, iPhones, Macs, Samsung Galaxies, and a roof above or head. Reason enough to give karma back to those who need it.
SL: The amount of submissions was enormous, over 5000 tracks. How on earth did you manage to listen to all these songs?
Bernard: Let's say that it looked like seeking a needle in a haystack at first, in this case I needed to find 52 needles ;), fortunately I found a lot of those, 257 in total. I started with listening to around 50 tracks per day and that for a couple of weeks. After that I had 257 tracks which could have fit on the compilation – quite a nice catch I must say. But 250 would have been a bit too much, sure thing was that I needed to trim it down to around 50 tracks. So I replayed everything and chose those tracks that I thought delivered something extra or had potential. In the end I had selected 57 tracks, but 3 bands and 1 label never got back to me with a final unmastered version or a signed contract. A pity because there was one band in there which had lots of potential, in the style of let's say the next Mesh. Perhaps they will change their mind the next time :). There was also a joined track by Junksista and Helalyn Flowers – a brilliant one – which originally had been recorded especially for "Face The Beat: Session 2", but Alfa Matrix decided to release it themselves on a future Alfa Matrix compilation instead because it was so good.
SL: How did you get hold of the the dreDDup track "Etika" featuring Borghesia's Dario Seraval?
Bernard: It was dreDDup who contacted me asking if I was interested. Since that track never has been released on an album before (the band's latest record never had a label release), it was a God's gift to put it mildly. The same happened when John Fryer, the legendary producer of NIN, Depeche Mode etc., told me during a diner at his place (Johny makes a delicious veggie lasagna) that he wanted to contribute a track to the compilation in order to help out. So that's how the instrumental track "Mourningmorning 1c" ended up on "Face The Beat: Session 2". Other early supporters included #366 A Life Lived, Bella Lune, Desireless & Operation Of The Sun Vs. Voice Of Ruin, Celluloide (via Boredomproduct who always have been big supporters of whatever we do), NoyceTM and so on.
SL: How did Erlend Eilertsen from the Norwegian band Essence Of Mind come into the picture to do the mastering?
Bernard: I wanted to master this second release. Since the bands do the effort to create a track, it's only logical they should be offered a quality environment for it to be released. Hence why this time we also went for HQ downloads via Bandcamp. To get back to your initial question, I have known Erlend for years now, and although I also have a professional relation with him via Alfa Matrix, he has also become a good, very reliable, friend whom I always meet up with when I'm in Norway. It was written in the stars that we would work on something together for Side-Line one day and since he has been quietly mastering a lot of his own material, I thought the time was ready to give him a whole compilation to work on too. Which let it be clear is not an easy task, many other mastering professionals can testify this. On top this was a particularly difficult job for Erlend because not all the material we received was recorded in the best circumstances; some material we got was also over-edited, over-mixed, etc.. He did a great job though!
SL: So it's not only a platform for starting bands but also a way for technicians to show what they can do mastering wise?
Bernard: Exactly. And for the next compilation I've already got another name in mind that I want to present. Again from Norway, let the guessing game start right now :)!
SL: What tracks have surprised you the most?
Bernard: In terms of ideas, I was particularly struck by what Nesim Celik did on "Atom Çağı". This Turkish act mixes electronics with sufi-style instruments, all self played by the way! I hope to hear more from this act because this is an idea I have had for a few years: mixing electronics and sufi in an intelligent way. The same goes for 3jean's "Nfn9" (2015 Edit), that track has quite some potential. It's maybe not the most produced one, but the idea is there and that is why it is on this compilation. But on the whole every band present on the compilation offered something which I found interesting, hence their inclusion.
SL: What are the next plans?
Bernard: Stephane and I have been brainstorming quite a bit the past few months, especially after the site went down for 2 weeks – which honestly was a very stressful period, and we are still recovering from it. We are convinced that now, more than ever before, we can be a platform for labels and bands to showcase their work to a large select public. Whereas the other magazines focus on bigger bands, we have decided to nurture new talents and ideas. As a result the "Face The Beat" series will keep on focusing on new talents. But you may also expect a few more initiatives through which we will be pushing scene labels and their bands. There are also a few compilation ideas we have been thinking about that we would like to develop and now that the site is back operational we have time to do that. All these releases will be available for free with all donations going to charity and to keep the site servers up and running.
SL: Speaking of which, the site has been down for 2 weeks, I'm probably not the only one wondering what happened?
Bernard: You're probably number 101 asking this. Basically we ran out of borrowed time on the old server. We knew we had to change servers, change CMS but as I pointed out, we all have very demanding daytime jobs and we really needed time to make the transfer. I guess that the server issues decided that the time was there, ha! I thought about killing Side-Line altogether, because you can't imagine how frustrating it is to see the work of 16 years evaporate. Luckily our dear friend War-n (Hungry Lucy, …) has been spending all of his spare time (and he has very little believe me), to restore the old db in the current CMS. It's currently running in a test environment. Once it's debugged we'll be switching it to the live site. After that we are going to match the old URLs in order to keep the external links to the site valid. Anyhow, during the downtime I worked on a couple of other sites I run.
SL: You run a lot of other sites?
Bernard: My daytime job involves about 20 other websites which I run in order to keep the daily bread arriving on my table. But those are all very business related and I doubt the Side-Line readers would be interested in that.
SL: There's also the Bob De Moor website you run no?
Bernard: You've really been googling me I have the impression… I am an admirer of Bob De Moor (editor's note: the right hand of Hergé, the famous father of Tintin & Snowy), since I was 8 years old actually and a few years ago I launched the Official Bob De Moor website. Unlike many of my 'heroes' he's among the few which I'm sure I would have gotten along with pretty well. Unfortunately I was never able to meet him in person, but through his work and family I have gotten to learn a lot about him. Right now I'm digitising the De Moor family's archives plus I'm traveling through Europe to look for previously unpublished material, originals etc. via all kinds of private collections. As a result I have even found some previously unpublished Tintin drawings Bob De Moor had made and which were never detailed in books before, let alone talked about. I also was able to 'unmask' a Tintin drawing sold for over 45.000 Euros as being a not so real Hergé item… much to the unhappiness of the buyer I must say :). And there is even a musical touch. De Moor was a huge jazz and blues fan, and since that is also a passion of me – you should now understand why Depeche Mode's "Ultra" still is a very acceptable album to me – I have been diving into his private collection in order to verify musical references in his work. And there's also a Side-Line link, because when I invited Side-Line readers to check out the website I noticed many familiar faces popping up on the site and it's Facebook page. So as you can see, the world is such a small place :).
You can download "Face The Beat: Session 2" right here from Bandcamp.
Since you're here …
… we have a small favour to ask. More people are reading Side-Line Magazine than ever but advertising revenues across the media are falling fast. Unlike many news organisations, we haven't put up a paywall – we want to keep our journalism as open as we can - and we refuse to add annoying advertising. So you can see why we need to ask for your help.
Side-Line's independent journalism takes a lot of time, money and hard work to produce. But we do it because we want to push the artists we like and who are equally fighting to survive.
If everyone who reads our reporting, who likes it, helps fund it, our future would be much more secure. For as little as 5 US$, you can support Side-Line Magazine – and it only takes a minute. Thank you.
The donations are safely powered by Paypal.