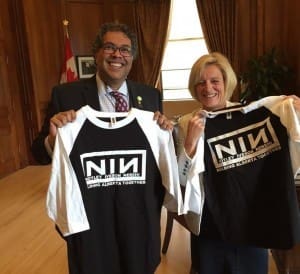 NIN (Nine Inch Nails) coincidentally is also the acronym of 3 Canadian politicians: Alberta Premier Rachel Notley, Edmonton Mayor Don Iveson and Calgary Mayor Naheed Nenshi. So the trio (Notley, Iveson & Nenshi) just nicked the NIN logo to be used on 'building Alberta together' t-shirts. Not that the NIN Twitter community is really appreciating it.
Trent Reznor has so far not reacted on the take-over of the NIN-logo by the Canadians who sell the t-shirts at $34,99 per piece. To be continued, but presumably Reznor won't take offence since the political trio is left-wing minded.
It's not the first time that Notley, a lawyer, has used a rock band for political reasons. During her campaign in spring 2015, her union supporters sold shirts holding Mötley Crüe's logo while presenting themselves a the "Nötley Crüe". She is currently the member of the Legislative Assembly of Alberta for Edmonton-Strathcona, and leader of the Alberta New Democratic Party.