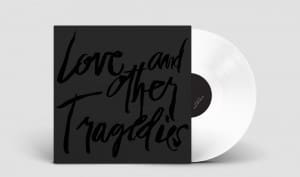 The Cure's Roger O'Donnell has written and performed on the album "Love and Other Tragedies" that is inspired by several classical stories alongside cellist Julia Kent of Anthony and the Johnsons and which has been almost 3 years in the making. The release is not all that surprising, the keyboard player with The Cure has spent most of the last five years composing for orchestral strings, ranging in size from the Wurttemberg Chamber Orchestra (The Bernhard Suite) to this his most recent work written for the cellist Julia Kent, "Love and Other Tragedies".
Each piece on the album is written for piano and two to four cellos, all of which are played by Julia. The music was written in O'Donnell's studio in England's rural Devon. Julia recorded the parts in her home studio in New York. Once the recordings were finished, Paul Corkett mixed the songs and then mastered them in London with Guy Davie. The tracks have been cut to heavyweight vinyl and are presented in gatefold format with art work by constant collaborator Anna Dorfman. The inside cover photograph was taken by Australian photographer Romain Duquesne and realised by the artist Jodee Knowles.
The album, which will be released on 29 May 2015, will be premiered live at St Leonard's Church in London on May 30th 2015.
The duo met when O'Donnell was asked to write a new version of the story of Scheherazade for the Post Romantic Empire project of Italian, Giulio Di Mauro. They collaborated on the suite written in three movements by Roger for piano and four cellos and decided to explore this liaison further.
Julia Kent might be less known to many of you, after years spent performing and recording with other artists and groups, among them Anthony and the Johnsons and all female cello group Rasputina, Canadian-born, New York City-based Julia Kent released her solo debut "Delay". Kent toured extensively in support of the album throughout Europe and North America and subsequently released an EP "Last Day in July".
In "Green and Grey", her following solo record, she continued to use looped and layered cello, electronics, and field recordings. Kent's last record "Character" was released by The Leaf Label in March 2013. Julia Kent has composed a number of original film scores, as well as music for theatre and dance performances. She continues to tour extensively and is currently composing for television and film.