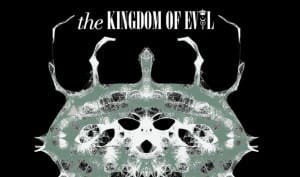 Available in pre-order now is the "The second coming of pleasure and pain" vinyl by the Swedish project The Kingdom Of Evol. This special Record Store Day 2015 release is limited (and numbered) to 500 copies of which 400 have already been sold, so better be quick if you want one of these.
Kingdom of Evol is the joint venture between Per Svensson (Fylkingen) and Freddie Wadling (Blue for Two, Fläskkvartetten, Cortex and several other bands), Joachim Nordwall and Henrik Rylander (both from Skull Defekts and other experimental bands) plus a guest appearance by Leif Elggren.
The project released its first, one sided mini LP in april 2012 as 'Kingdom of Evol featuring Freddie Wadling' and an album called "Dark Passages * Nocturnal Incidents".
The track list is as follows:
A1 Pleasure & Pain 4:16
A2 Living For Today 4:23
A3 Wormland 3:45
A4 Circles 9:20
B1 Alcohol 5:34
B2 The Rain 3:08
B3 Evil Boogie 5:16
B4 Automatic Life 3:09
B5 Swim Inside The Sun 4:10