Genre/Influences: Shoegaze.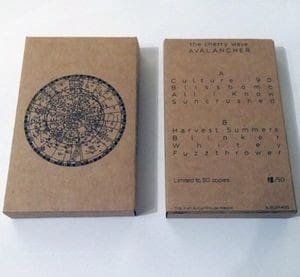 Content: The Cherry Wave is a new name that will possibly set the shoegaze world on fire. This band based in Glasgow (Scotland) already released a cassette and an EP. They now signed to one of the absolute master labels of shoegaze, which can only, but increase their popularity.
If you think shoegaze you immediately will remember the legendary and one and only Jesus And The Mary Chain. I know it sometimes is quite easy and maybe a bit cheap to refer to this great band when it comes to speak about shoegaze, but when listening to "Avalancher" you simply can't get away from the idea that The Cherry Wave members have grown up with the music of their great compatriots.
The first song "Culture '90" directly reveals the inspiration of The Cherry Wave. This is pure and dark shoegaze music with this typical fuzzy guitar playing and great vocals. The album features a succession of dynamic songs, which are driven by a merciless cadence and misty guitar parts. There's a touch of rock emerging from some cuts, but globally speaking it all remains 'old-styled' shoegaze. You immediately feel like you are imprisoned in a dense sonic web of distorted effects and ghost-like vocals.
There's no real break among the 8 songs. The last cut "Fuzzthrower" sounds a bit rock and punkish minded getting over into a terrific and merciless final part, which appears to be a real sonic cataclysm. The progression in the global structure is absolutely well-crafted and holds you in its grip for more than 9 minutes.
The 7 songs left all are pure smashers. It's hard to say, which ones are my favorites because there is something to mention about every single song. I however will mention "Blinker" and "Whitey" for their impressive guitar parts and the desperate atmosphere recovering the tracks. The Cherry Wave for sure is not the kind of band you should play when you feel sad and lonely. They bring you quite progressively towards an imaginary point of no return: listening to "Avalancher" and die!
Conclusion: Saint Marie Records let's us already discover several great bands and outstanding records, but The Cherry Wave's "Avalancher" is close to perfection! This is simply a sublime masterpiece!
Best songs: "Blinker", "Whitey", "Blissbomb", "All I Know", "Fuzzthrower".
Rate: (DP:9)DP.
Band: http://www.facebook.com/TheCherryWave / http://www.saintmarierecords.com / http://www.saintmarierecords.com