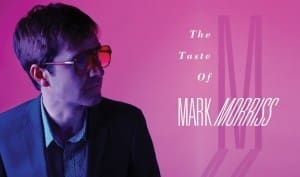 The new Mark Morriss album, a covers album titled "The Taste of Mark Morriss", will be out July 31st on the Acid Jazz label, but a first teaser has now been released, namely his version of the Sisters of Mercy cult hit "Lucretia" and this via a video.
The album is the second studio solo album from Morriss and holds 12 covers of songs by The Sisters Of Mercy, OMD , The Pet Shop Boys, Jesus & Mary Chain and many more. The album is available via Amazon
on vinyl!
Track listing:
This Pullover (originally by Jess Conrad)
Rock & Roll Woman (originally by Buffalo Springfield)
Souvenir (originally by OMD)
Self Control (originally by Laura Branigan)
Duchess (originally by Scott Walker)
You Are My Friend (originally by Rain Parade)
Lucretia (My Refelction) (originally by Sisters of Mercy)
Angel (originally by Madonna)
Almost Gold (originally by Jesus & Mary Chain)
Don't Let Go (originally by Weezer)
Love Comes Quickly (originally by The Pet Shops Boys)
Good Archives (originally by REM)
Below is the acoustic session video of "Lucretia" by Sisters of Mercy.