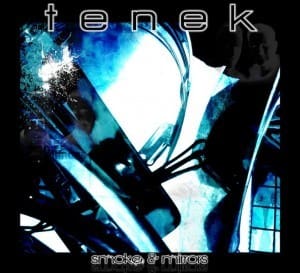 Three years in the making, tenek's newest 11-track album "Smoke and Mirrors" will be hitting the stores by the end of November via Distortion Productions, you can order it right here.
For the recordings the band enlisted musicians such as Paul Jackson (bass player from the well-known 80's British pop band T'Pau), Australian-based Sam Morrison (bass), Michael Steer (bass) and newly added band member Steve Clark (drums/vocals).
It's the first new material from the band since their second album "On The Wire" (2010) and the 2 recently released EPs "Another Day" and "What Kind of Friend?". Pre-orders for the album on CD or as download will startFriday 16th of November. Friday 8th January 2016 will see the digital distribution to all other online stores.
The Devon/Essex based electropop act tenek (aka Geoff Pinckney and Peter Steer) debuted in 2007 and toured two albums and 9 singles/EP's.
An album launch party will take place November 28, 2015 at The Garage, London with special guests The Last Cry and Gary Le Strange. Here's a video trailer made for the occasion.