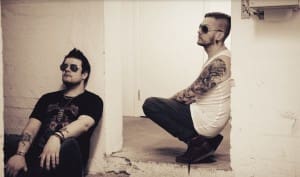 Machinista has been on our radar for quite some time and the Swedish duo have proven quite well they deserve their spot in the electropop scene. Machinista are now set to release a special two disc edition of their debut album "Xenoglossy" this November (orders are available here).
Originally released in 2014 on Juggernaut Media Group in limited quantities, "Xenoglossy" is the precursor to their well received second album "Garmonbozia" which debuted this June via UK-based label AnalogueTrash.
The 2CD set, called "Xenoglossy [Expanded Edition] ", is officially released on the 6th of November as a double disc, 6 panel digifile CD edition with 13 brand new remixes by the likes of IIOIOIOII, Vogon Poetry and Spacebuoy and exclusive artwork from the band.
Pre-orders are available now directly from AnalogueTrash. A highly recommended release! Below is a video for "Molecules And Carbon" as featured on Machinista's debut album.