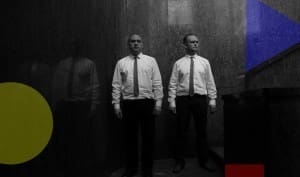 (Photo by Kristel Nijskens) The Belgian electro act Metroland returns with yet another single taken from their successful second album, the 3CD set "Triadic Ballet" which was released on April 16 earlier this year and which you can order straight from the band's record label Alfa Matrix. This second single (the first being "Zeppelin" which was also available in 2 versions) is again available in 2 different download versions via Bandcamp, the normal and the spacious edition.
The normal edition holds an exclusive 7inch edit and a 12inch mix of "The Manifesto", while the other – the Spacious Edition – comes with remixes by, among others, iEuropean, who many will remember from his recent collaboration with Wolfgang Flür (Kraftwerk). Both EP's also contain a different version of "A Man Walked On The Moon": a brand new track, exclusively available as part of these EP's.
You can download these releases below via Bandcamp.