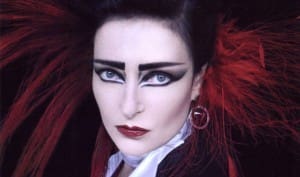 The series finale of "Hannibal", an American psychological thriller–horror television series based on characters and elements appearing in the novel "Red Dragon" by Thomas Harris, featured "Love Crime", the first new song from Siouxsie Sioux in over 8 years. The track was co-written with "Hannibal" composer Brian Reitzell.
For those who wouldn't know the series itself, it focuses on the relationship between FBI special investigator Will Graham (Hugh Dancy) and Dr. Hannibal Lecter (a fantastically performing Mads Mikkelsen), a forensic psychiatrist destined to become Graham's most cunning enemy.
It was the series composer Brian Reitzell who reached out to see if Siouxsie Sioux would be interested in writing a song. In the end she wrote a love song between Will and Hannibal called "Love Crime". NBC and Sky, the series American and UK broadcasters, decided to cough up the money to pay Siouxsie Sioux although the show will be discontinued.
And there's more, the collaboration with Reitzell has apparently been such a goo experience that Siouxsie Sioux will be doing a few more tracks with him. For your info, it was also Reitzell who got Talk Talk's Mark Hollis so far to contribute to the TV show "Boss".
You can listen to "Love Crime" below: