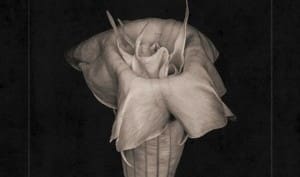 While John Fryer's other project Muricidae released a first EP, in the past Side-Line also reported about another new project John Fryer had been working on since 2013 together with singer Pinky Turzo: Silver Ghost Shimmer. The two videos "She Keeps Me Hoping" and "Soft Landing" promised that something great was in the making and that prediction has now come true with the release of the band's debut album "Soft Landing" which features what you could best describe as 4AD indie rock with a weird twist to it.
The band describes the sound of Silver Ghost Shimmer as being inspired from the great vocal groups of the 60s like The Shangri Las and – we quote the band – the musical approach of a gun swinging, wig wearing wall of sound producer with a twist of glamour and decay added to their sugar coated noise pop couture. The material features guest guitarist Tom Berger on the tracks "Question That Cry" and "Glittering Eye's & Apple Rays".
Again, a highly recommended release which is now available from iTunes. Below you can view the project's 2 videos.