Genre/Influences: Punk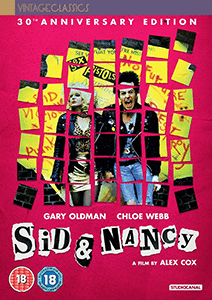 Content: To celebrate 40 years of punk and the 30th anniversary of this legendary movie, STUDIOCANAL decided to re-release this cult classic. The story is in fact a shocking portrait of the mutually destructive drug-and-sex filled relationship between punk-icon Sid Vicious (real name John Simon Ritchie) and Nancy Laura Spungen.
Sid replaced Glenn Matlock as bass guitarist with Sex Pistols and met the ultimate groupie Nancy. She introduced him to drugs (heroin) after which the two fall deeply in love, but their self-destructive, unhealthy drug-fueled relationship destroyed Sid's relationship with the band.
In the middle of an American tour on 17th January 1978 Sid left the band and started a solo-career, although his friends explicitly warned him of Nancy's devastating effect on his life. They both became heavily addicted to heroin and Nancy got into a big depression, asking Sid to kill her, but he just wanted to get out of this all and go back to England.
On 12th October 1978, Nancy Spungen was found stabbed to death in a bathroom at the Chelsea Hotel, New York. Sid was immediately arrested for her murder, and died of a drugs overdose whilst awaiting trial.
This is the tragic and sad story of punk rock's Romeo & Juliet, showing the dark side of sex, drugs and rock 'n roll. Gary Oldman portrays in an excellent way Sid, Chloe Webb stars as Nancy and also Courtney Love and Iggy Pop got a cameo.
Conclusion: The film embodied the noise, chaos and fury of punk while at the same time revealing the intimate and heart-breaking relationship between two lost souls, stuck in a situation they couldn't handle. This new restored version with colour correction has also interviews with the director and cinematographer.
Rate: (WH:9)WH.
Label: http://www.studiocanal.co.uk / https://www.facebook.com/STUDIOCANAL