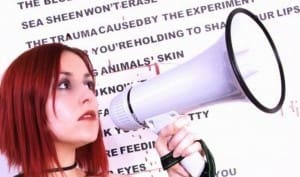 Out by mid-July is "La Pierre Soudée", Riotmiloo's first personal album. For this release, Riotmiloo collaborated with 10 artists from diverse musical backgrounds, including Dirk Ivens, Till Brüggemann, Eva|3 (featured on 2 tracks), Philipp Münch, C-Drík, Scalper, Chrysalide, ESA, Babylone Chaos and Vadi Starh. The album can be ordered right here.
These collaborations didn't come fall out of the sky if you take a closer look at her repertoire so far. Riotmiloo's musical roots come from riotgrrrl's screams and protest. Lead singer of the London garage punk band Venom Seeds (2003-2008), she released a sold out interactive demo and then a 7″ with Seattle label Flotation Records. Riotmiloo also sang in experimental punk band 3 Ant Riot and founded the digital punk project Gross Miss Kondukt. Since then, Riotmiloo collaborated with numerous electronic, industrial and techno artists. In 2005, she recorded a track "Sweet Abuse" with Eva|3. She joined him on stage. She then became a permanent member of his live shows. "Sweet Abuse" was released on his album The Great Divide, fich-art, 2007 and was remixed many times.
Riotmiloo's voice can be found on various releases on different international record labels. She recorded "Slogan" with Millimetric (on Wave Control, Blackfox Music, 2014), "The Magma of War" with Philipp Münch (on Mondo Obscura, Ant Zen, 2012), "Dead Fucking Desire" with ESA (on The Sea and the Silence, Tympanik Audio, 2008) and "Vicious Death_Drowning Memories" with HIV+ (on "We are All Haunted Houses", Caustic Records and Divine Comedy Records, 2007).