Genre/Influences: Electro-pop, electro-rock.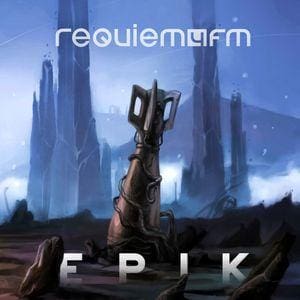 Content: Requiem4FM is not exactly the most famous and common name active in the wider fields of electro-pop music. The band was formed in 2003 and had the opportunity to join Shadowplay Records to release 2 albums. The band seems to have gained some recognition in their homeland, but remains rather unknown to the international scene.
I was wondering what this band would sound like as I already discovered excellent bands on the SkyQode roster. "Intravenous" is a kind of intro song, but which already gives us an indication about the sound and style. The psychedelic guitar sounds are quite surprising here. "Once And 4 All" coming up next is an interesting take off revealing a more electronic composition mixed with technoid elements. I got the impression that this song was composed by an experienced producer. The vocals are rather clear, but not fully convincing. I'm missing some passion in the vocals. I personally prefer a song like "You Coloured My Dreams" featuring vocals by ex-Dual Density singer Tess Fries. She literally injects passion and reverie to the music, which makes it all more accomplished.
Mastermind Dim Semeny4 asked a few more guests to join in. Xavier Morales (Ruined Conflict) is the most famous name, but there also is Roman Ryabtsev (Technology). Xavier Morales has a real particular timbre of voice reminding me of Ronan Harris and that's precisely what you can hear on "Epik". The title song also is one of the best tracks of the work.
A few songs move into pure electro-rock vein. "The Screens" is characterized by a furious guitar solo, which I didn't exactly expect. It clearly shows that Requiem4FM tries to create some distance from established electro-pop standards, but for some reasons the guitar passages are not the most convincing aspect of the work. I prefer "Rain Factory" (featuring backing vocals by Roman Ryabtsev) where the guitar passages match with the reverie touch of the song.
Conclusion: I was not really impressed by this album, which is missing noticeable songs and where the main element to reconsider appears to be the production of the vocals. Tess Fries would be a great addiction to this band.
Best songs: "Minutes Of Madness", "You Coloured My Dreams".
Rate: (DP:6)DP.
Band: www.requiem4fm.com / www.facebook.com/requiem4fm
Label: http://skyqode.com / www.facebook.com/skyqode