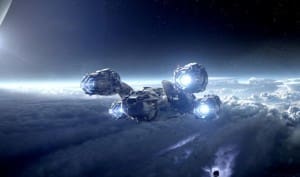 The filming of the sequel to Ridley Scott's 2012 sci-fi thriller "Prometheus" is soon to start. After finishing the shooting of his newest film "The Martian", Scott will be starting to film "Prometheus 2" in January 2016. Next to Scott a few others return such as actors Noomi Rapace and Michael Fassbender. The script seems to return to a more horror-like genre than the original. Also, Scott has eluded that the film will be (partially) set on Earth.
Good to know, Ridley Scott will be executive producing Neill Blomkamp's "Alien 5" (that's just a working title) as well to ensure plot details do not contradict anything found in "Prometheus 2". It seems that film will disregard the events of "Alien 3" and "Resurrection". The plot for the film will take place well after the events of Ridley Scott's "Prometheus" and its sequel – obviously – and closer to the timeline between "Aliens" and "Alien 3".
In the meantime "The Martian" should keep you happy. The science fiction film, based on the 2011 novel "The Martian" by Andy Weir, stars Matt Damon in the leading role and has a plot which will surely keep you interested. During a human mission to Mars, astronaut Mark Watney is presumed dead after being caught in a storm, and is left behind when the rest of the crew evacuates the planet heading back to Earth. Watney now has to find a way to signal home and stay alive until he is being rescued (there is no realistic prospect for a rescue). "The Martian" is scheduled to be released on October 2, 2015.