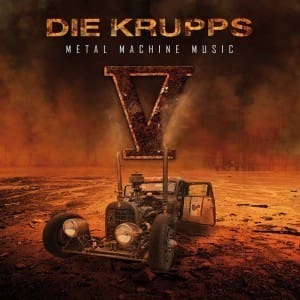 Out by mid-September – but available right now in pre-order – is the new Die Krupps album "V: Metal Machine" which gets a 2CD release. On this new album the band goes back to the time they integrated tough thrash guitars into their electronic sound and becoming, along with Nine Inch Nails and Ministry, the most important source of inspiration in the electro metal genre.
You might remember the title "Metal Machine Music" which was on their same-named maxi single. Says Jürgen Engler: "The title is so succinct that the new album just had to be called "Metal Machine Music"! The name stands for the ultimate symbiosis of electro and metal, the way I've always had it in mind."
Below is the cult video from said track.
The 13-track album can be ordered right now and comes accompanied by the following tracks on the bonus disc:
Kaltes Herz (reworked by Darkhaus)
Alive in a Glass Cage (remixed by Faderhead)
Road Rage Warrior '82
Battle Extreme (Demo)
Kaos Reigns (Demo)
The Vampire strikes back (Demo)
Kaltes Herz (Demo)
Alive in a Glass Cage (Demo)