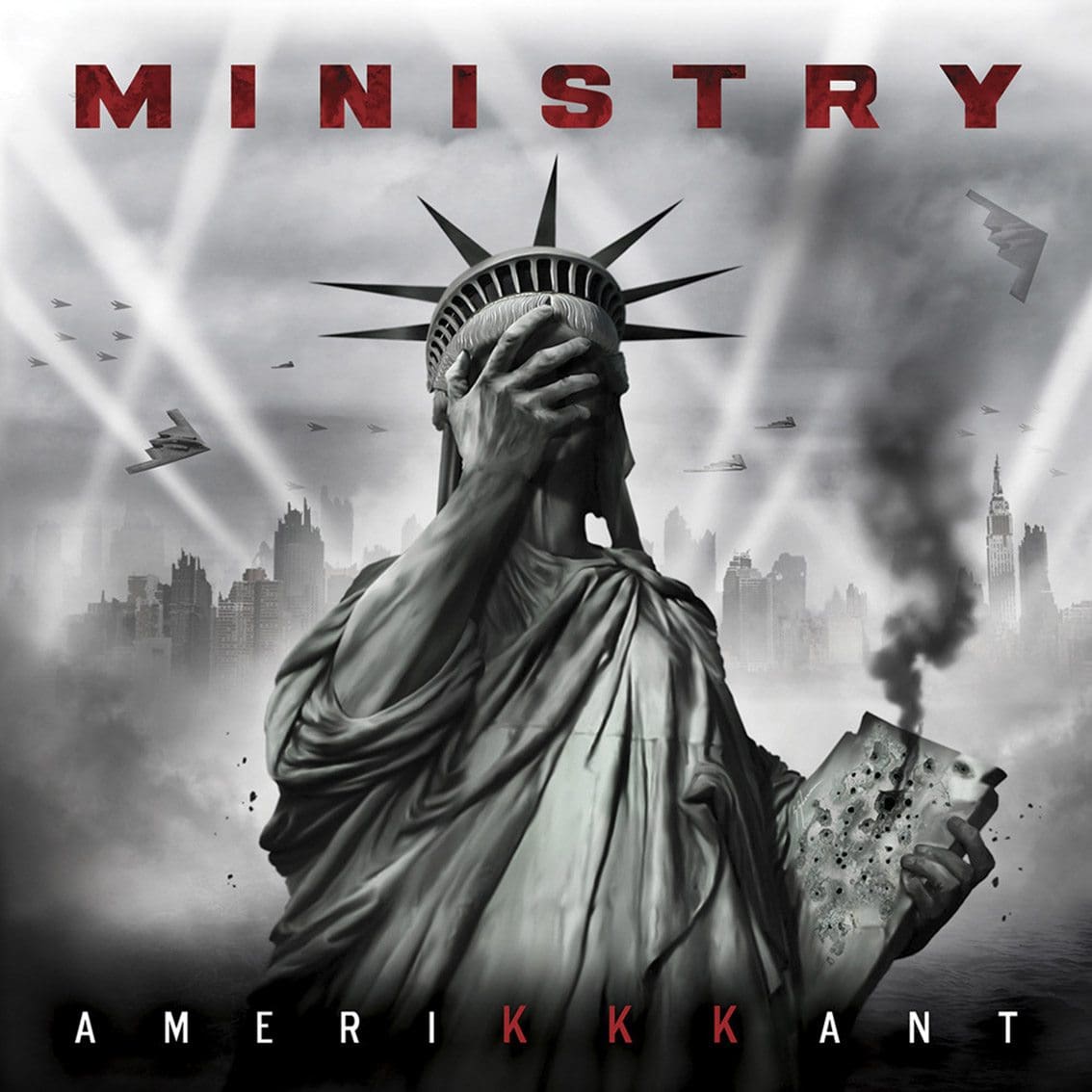 "AmeriKKKant", industrial-metal pioneers Ministry's 14th album, will be released on March 9, 2018 for the first time via Nuclear Blast Records. The album will include guest appearances from Burton C. Bell of Fear Factory, former N.W.A. member Arabian Prince, DJ Swamp and Lord of the Cello. It contains 9 songs in total of which 3 of them are longer than 8 minutes!
The new album will also be released on vinyl and can be ordered here.
Special release-packages can be ordered here.
Today the video for the first single, "Antifa", a protest song against the current political chaos in America, was released.
Tracklist
1. I Know Words
2. Twilight Zone
3. Victims of a Clown
4. TV5/4Chan
5. We're Tired of It
6. Wargasm
7. Antifa
8. Game Over
9. AmeriKKKa
Tourdates
March 22 – Anaheim, Calif. @ House of Blues
March 23 – Ventura, Calif. @ Ventura Theatre
March 24 – Las Vegas, Nev. @ Brooklyn Bowl
March 26 – Sacramento, Calif. @ Ace of Spades
March 28 – Portland, Ore. @ Roseland Theatre
March 29 – Vancouver, British Columbia @ Vogue Theatre
March 31 – Edmonton, Alberta @ Union Hall
April 01 – Calgary, Alberta @ Palace Theatre
April 03 – Missoula, Mont. @ Wilma Theatre
April 05 – Lincoln, Nebr. @ Boubon Theatre
April 07 – Chicago, Ill. @ Riviera Theatre
April 08 – Milwaukee, Wis. @ Turner Hall Ballroom
April 10 – Cincinnati, Ohio @ Bogart's
April 11 – Grand Rapids, Mich. @ 20 Monroe Live
April 12 – Indianapolis, Ind. @ Egyptian Room
April 14 – Toronto, Ontario @ Opera House
April 15 – Montreal, Quebec @ MTelus
April 17 – Boston, Mass. @ Royale
April 18 – Portland, Maine @ Aura
April 19 – Huntington, N.Y. @ Paramount Theatre
April 21 – Montclair, N.J. @ Wellmont Theatre
April 22 – Buffalo, N.Y. @ Town Ballroom
April 23 – Baltimore, Md. @ Rams Head Live
April 25 – Atlanta, Ga. @ Center Stage
April 26 – Orlando, Fla. @ Hard Rock Live
April 28 – Austin, Tex. @ Levitation Festival
August 10 – Kortrijk, Belgium @ Alcatraz Metal Festival