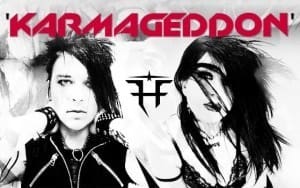 Helalyn Flowers have released an exclusive new song "Karmageddon" from their upcoming new album. The track can be found on the free Alfa Matrix download compilation "Matrix Downloaded 004" and gives a very good idea what to expect pretty soon on the new Helalyn Flowers studio album.
You can listen to the song below or download it right here together with the other songs on the compilation.
That compilation also holds another exclusive Helalyn Flowers appearance, namely a collaboration with Junksista on the track "Strictly Physical". Good to know, the track was first meant to appear on Side-Line's free "Face The Beat: Session 2" download compilation, but was considered so good by Alfa Matrix (and that was also why Side-Line had picked it up) that they decided to release it themselves. Nøemi Aurora is featured here as guest vocalist. You'll quickly understand why we like the track so much!
Listen below, or download here.