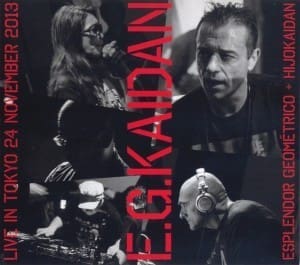 Out next month, but available here already, is a collaboration live recording on vinyl by the Spanish Industrial music pioneers Esplendor Geometrico and the legendary King of Noise in Japan, Hijokaidan. The live recording was made in Tokyo in 2013 at the SuperDeluxe club.
This collaborative release between the 3 labels Geometrik (Madrid), Alchemy & Suezan Studio (Tokyo) was also released on CD format in Japan only but sold out immediately. The vinyl version will probably also be sold out in no time, so order your copy right now.
The vinyl holds 6 tracks: "E.G.KAIDAN 02", "E.G.KAIDAN 03", "E.G.KAIDAN 04", "E.G.KAIDAN 06", "E.G.KAIDAN 07" and "E.G.KAIDAN 08".
Below is a sample to wet your appetite…