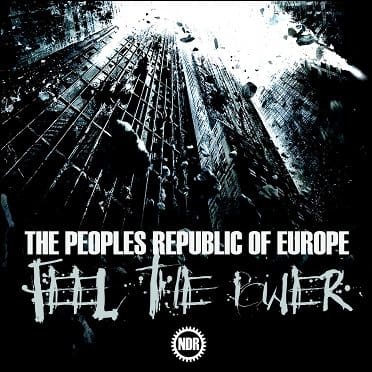 Out now is is the "Feel The Power" album by Dutch industrial hardcore/doomcore/rhythmnic noise outfit The Peoples Republic Of Europe. It's their 10th official studio album to date and is available as a limited CDr and bandcamp download. The album will also be available through Itunes, Beatport, Juno Download, Spotify and a load of other digital retailers from the 9th of september onwards.
This new album of The Peoples Republic Of Europe focusses on what they call 'the abuse of power of our governments'. Says the band: "There is a lot of turmoil in the world today. Mr Snowden has unveiled the massive surveillance project of the NSA. Freedoms worldwide are being diminished, like Russia with its anti LGTB laws, England with its anti-porn regulations and severe misuses of power in the USA. (…) Because in the end there is no solution for the problems we are facing today. There are too many people, and they keep on reproducing like rabbits. It is even too late for birth control. The only solution now is genocide. And the powers that be keep on talking about job recovery and the good stockmarket results. But in the backrooms they have already planned out the coming genocide. Their instruments of law and oppression are already in place."
Now, take the statement for what it is, we preferred focusing on the music which is a nice mixture of above mentioned influences.
You can listen to the album below.