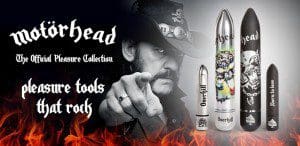 Although Motörhead frontman Lemmy is facing health problems they have found the time to 'do a Rammstein' and endorse a line of Motörhead sex toys. Lovehoney, in collaboration with Motörhead, developed 4 'bullet and classic torpedo-shaped' vibrators, all decorated with the band's logo and branding.
According to Lovehoney you may "prepare for the sort of mind-blowing orgasms you'd expect from the 'loudest band on Earth".
The complete 'Motörhead – The Official Pleasure Collection' line is available online via Lovehoney's EU webstore and USA based webstore.
Have fun and let us know how they feel, if you dare.